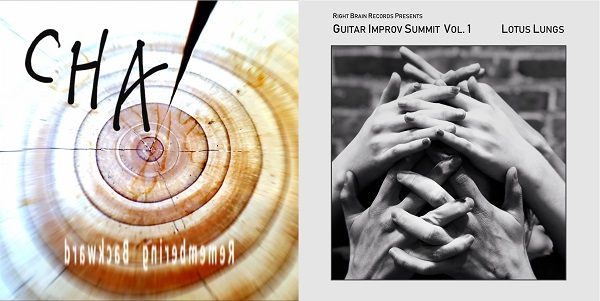 CHA and Lotus Lungs are two Seattle trios that each use free improvisation to engage audiences and explore higher musical dimensions. Both are comprised of highly accomplished musicians and draw from wildly diverse influences.
CHA includes Carol J Levin (electric harp), Heather Bentley (electric viola), and Amelia Love Clearheart (voice). Their classical training is evident in their polished sound, and is balanced by healthy doses of jazz and world music. The percussive sounds of harp are complemented by soaring viola lines and vocals that span everything from spoken word poetry to free-form chants inspired by the sounds of the Earth. They combine so effortlessly, that it seems hard to believe that each performance is created from scratch in the moment. Their album Remembering Backward is a powerful statement of CHA's unique collective voice.
Lotus Lungs is a guitar trio like no other. Bill Horist, Matt Benham and Tom Scully tap into sources ranging from jazz to punk rock to avant garde and experimental music to build exotic soundscapes from an instrument you thought you knew. They use electric and acoustic guitars, and employ imaginative electronic effects in creating a world all their own in fully improvised pieces. Lotus Lungs' album Guitar Improv Summit Vol. 1 sets a new standard for guitar innovation.
Presented by Right Brain Records.