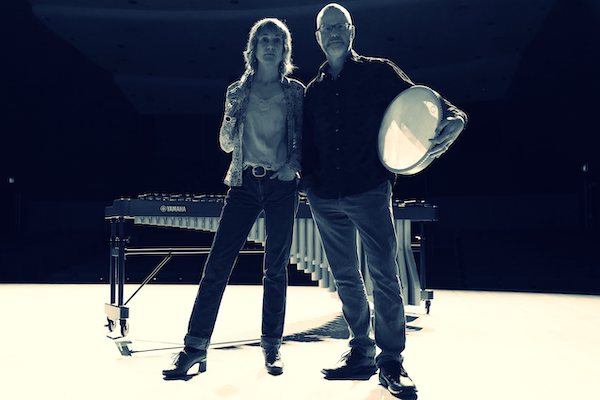 WE ARE SORRY TO REPORT THAT DUE TO PUBLIC HEALTH CONCERNS REGARDING THE COVID-19 CORONAVIRUS, THIS EVENT HAS BEEN CANCELLED.
Caballito Negro and Left Edge Percussion perform The Stone Tapestry, Jeff Herriott's epic, shape-shifting work for flute and percussion soloists with percussion quartet. The Stone Tapestry weaves together myths about origins, life cycles, and the significance of change. Composed for flute and percussion soloists and percussion quartet, employing a myriad of flutes, percussion, electronics, and video, the piece traces the path of just a few stones, from discovery to disappearance, in a ritualistic performance. Guest artist Bonnie Whiting and the UW Graduate Percussion Quartet will open the concert with music by Elena Rykova for amplified tabletop. Seattle-based percussionist Jenny Gray will also perform her solo version of John Cage's Forever and Sunsmell.
Southern Oregon-based duo Caballito Negro is known for its creative and compelling performances, generating a fearless, ecstatic blend of modern and traditional aesthetics. Multi-flutist Tessa Brinckman and multi-percussionist Terry Longshore draw their name ("dark little horse") from Federico García Lorca's poem, Canción de Jinete (1860). Heralded for their "wildly personal, intercultural, modern music…vivid, expressive music that could be performed anywhere" (Oregon Arts Watch), they collaborate with visionary artists, using an arsenal of instruments. Their first recording, the EP Songlines (2016), featuring the music of William Kraft, David P. Jones and Ivan Trevino, was praised for its "absolutely gorgeous tone (and) understated virtuosity" (Joshua Cheek) and being "expertly produced and played" (NFA Quarterly).
Left Edge Percussion is a contemporary percussion group in residence at the Oregon Center for the Arts at Southern Oregon University, led by artistic director Terry Longshore. The group tours and performs throughout the Northwest and actively collaborates on innovative projects with composers and artists of various media. The members of the group have been featured around the globe at prestigious festivals, competitions, conferences, and workshops and bring a diverse array of influences and collective energy to the ensemble.