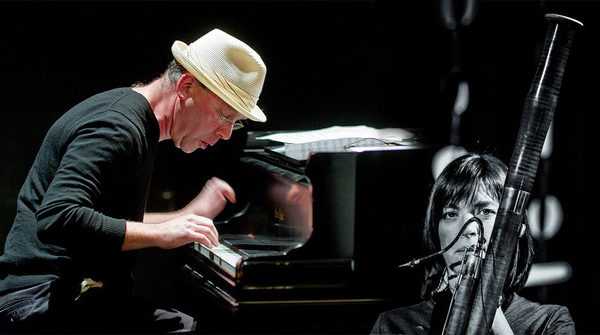 WE ARE SORRY TO REPORT THAT DUE TO PUBLIC HEALTH CONCERNS REGARDING THE COVID-19 CORONAVIRUS, THIS EVENT HAS BEEN CANCELLED.
Sara Schoenbeck (bassoon) and Wayne Horvitz (piano) explore multiple terrains, the hills and valleys, between composed music, free improvisation, and most other places. Plus guests!
Sara Schoenbeck (Bassoon) and Wayne Horvitz (Piano, Electronics) first met as performers at the company style improvisation festival "Time Flies" in Vancouver B.C. in 2000. They have been frequent collaborators ever since in The Gravitas Quartet, Some Places Are Forever Afternoon, and numerous improvised collectives and performances. They are dedicating their long time collaboration to duo spaces of original music and improvisation. A study of the crossroads where texture and extended technique meet with and support the expression of melody and song.
Sara Schoenbeck is a bassoonist who dedicates herself to expanding the sound and role of the bassoon in the worlds of classical, contemporary notated and improvised music. Sara performs regularly with Petr Kotek's SEM Ensemble, the composers group WetInk, Wordless Music Orchestra, Anthony Braxton's Tri-Centric Orchestra, Wayne Horvitz's Gravitas Quartet, Harris Eisenstadt's Golden State Quartet, Eve Risser's White Desert Orchestra, Nels Cline Lovers Ensemble, Adam Rudoplph's Go Organic Orchestra, and the Michael Leonhart Band, as well as performing with Roscoe Mitchell, Butch Morris and Yusef Lateef, Wadada Leo Smith, Robin Holcomb, Matt Mittchell, Pamela Z, Taylor Ho Bynum, Joe Morris, Miya Masaoke, Ingrid Laubrock, Marty Ehrlich, Ben Goldberg, and Mark Dresser, to name a few. She has performed at major venues and festivals throughout North America and Europe, including Carnegie Hall, Lincoln Center Out of Doors, the Kitchen, Iridium, Disney Hall, the Kennedy Center, SXSW, New Orleans Jazz Festival, Newport Jazz Festival, Berlin Jazz Festival, Free Music Festival in Antwerp Belgium, Biennale Musica in Venice Italy, Montreal Jazz Festival, Ottawa Jazz Festival, the Vancouver International Jazz Festival, and The Angel City Jazz.
Composer, pianist, and keyboardist Wayne Horvitz is the leader and principal composer for the Sweeter Than the Day, the Snowghost Trio, and the Royal Room Collective Music Ensemble. Recipient of the 2016 Doris Duke Performing Artist Award, Horvitz has been commissioned by The Kitchen, The Seattle Symphony, The Kronos Quartet, Brooklyn Academy of Music, New World Records, The Seattle Chamber Players etc. Commissioning grants include Meet the Composer, The NEA, Seattle Office of Arts and Culture, NYSCA, The Mary Flagler Carey Trust, The Lila Wallace-Reader's Digest Fund and The Fund for U.S. Artists. He received a MAP grant in 2010 for "55: Music and Dance In Concrete", a site-specific collaboration with choreographer Yukio Suzuki, video artist Yohei Saito and producer Tucker Martine which premiered in September 2012 at Centrum (WA) and the ASU Museum of Art. His hour-long song cycle Smokestack Arias, based on the events of the Everett Massacre, appeared at Act Theater for 2 weeks in February of 2012. He is the recipient of the 2008 NEA American Masterpieces Award for the string quartet These Hills of Glory.