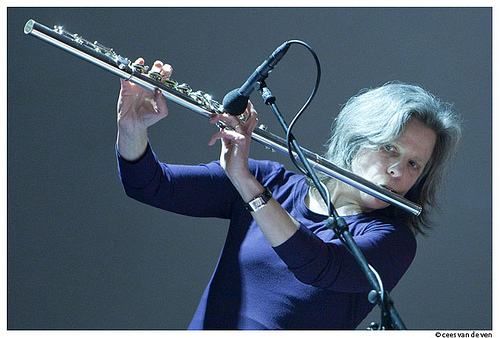 Improvising electronic musicians Ann La Berge and Tom Baker perform three short sets – a solo each and then a duo. The two have been working on a new album to be released this year, with performances and recordings in Amsterdam and Seattle.
Anne La Berge's career as flutist/improviser/composer stretches across international and stylistic boundaries. Her most recent performances bring together the elements on which her international reputation is based: a ferocious and far-reaching virtuosity, a penchant for improvising delicately spun microtonal textures and melodies, and her wholly unique array of powerfully percussive flute effects, all combined with electronic processing. Many of her compositions involve her own participation, though she has produced works intended solely for other performers, usually involving guided improvisation and text. She also uses these compositions that work with a flexible combination of imposed musical situations and electronics where performer/improvisers are an integrated part of the music making process as material for workshops and masterclasses.
Guitarist Tom Baker has been active as a composer, performer and music producer in the Seattle new-music scene since 1994. He is the artistic director of the Seattle Composers' Salon, and co-founder of the Seattle EXperimental Opera (SEXO). Tom performs on fretted and fretless guitars, and has worked with many innovative musicians, including Stuart Dempster, William O. Smith, Christian Asplund, Chinary Ung, Ellen Fullman, Gino Robair, and Henry Threadgill. He has recorded seven albums, including two solo albums. His most recent release, SAVE, with his band the Tom Baker Quartet, has garnered much attention and critical acclaim. Tom has received many grants and awards for his work, including honors from the Seattle Arts Commission, Meet the Composer, Artist Trust, and Jack Straw Productions. His compositions have been performed throughout the United States and Canada, as well as in Holland and England.