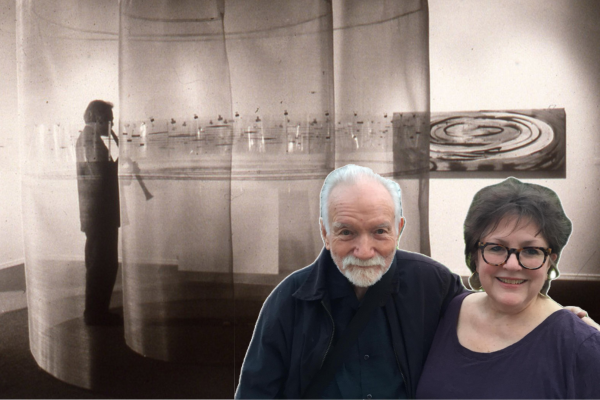 The work and collaborations of clarinetist/composer William O. Smith and artist Virginia Paquette Smith will be celebrated with an exhibition of paintings and a wide-ranging concert of experimental music and jazz, including a structured improvisation for clarinet ensemble composed by Virginia after Smith's passing, with performers including James Falzone, Stuart Dempster, and many others.
William O. Smith (1926–2020) and Virginia Paquette Smith, who passed away in 2022, first met in 1973 and were married for 42 years, living in Seattle, supporting each other's artistic endeavors, and collaborating through art and music until their last day together. "Bill & Virginia" honors their life and work through recorded video performances, live experimental clarinet pieces written by and inspired by William O. Smith (as he was known in classical circles), a set of jazz tunes written by Bill Smith (his name in jazz and to his friends), and an exhibition of paintings by Virginia.
About the paintings:
Curated by Carol Whittaker, a former student of Virginia's, this one-night only exhibition of Virginia's paintings will include works from throughout her prolific career, spanning periods of realism, abstraction, and experiments with different materials. Of particular note is the family-favorite version of her Birds of Paradise series. The paintings exhibited here are drawn from family and personal collections, with several having been recently shown at the Mercer Island Community Center.
About the music:
Bill and Virginia's earliest formal collaboration was Slow Motion for electric clarinet with computer graphics (1987), which will be shown in a recorded performance by Christopher Mothersole. In 1993 Bill and Virginia collaborated on 86910 for clarinet and digital delay at the Cliff Michel Gallery in Seattle. This piece was a transparent spiral construct inspired by Da Vinci's Codex Sketches of the shape of moving water. Bill's notation is painted on the spiral, and he walks through this transparent vortex as he plays the piece forwards and then backwards upon itself. Video of Bill's 1993 performance will be shown.
A team of clarinetists (Jesse Canterbury, Mary Kantor, Beverly Setzer, and Rachel Yoder) will play movements of Smith's landmark work Variants, the pioneering 1963 work of extended clarinet techniques. Rachel Yoder and Jeffrey Cohan will play Smith's Jazz Set for Flute and Clarinet (1974), the first of several "Jazz Set" pieces, all combining rhythms and style of jazz with pitch content driven by set theory. Canterbury will play Smith's Epitaphs (1993) for double clarinet – a work for two clarinets played simultaneously, with text from the ancient Arcadian poet Anyte of Tegea.
Local musicians pay their respects to Smith with original works. Stuart and Renko Dempster perform a tribute piece with temple bells; Rachel Yoder plays her Aspects/Respects for clarinet with audio of Bill's voice, and James Falzone does a solo improvisation dedicated to Bill.
After a jazz set by frequent collaborators of Bill's — clarinetist James Falzone, percussionist Greg Campbell, and bassist Brian Cobb — the night concludes with a structured improvisation for clarinet ensemble composed by Virginia after Bill's passing in 2020.