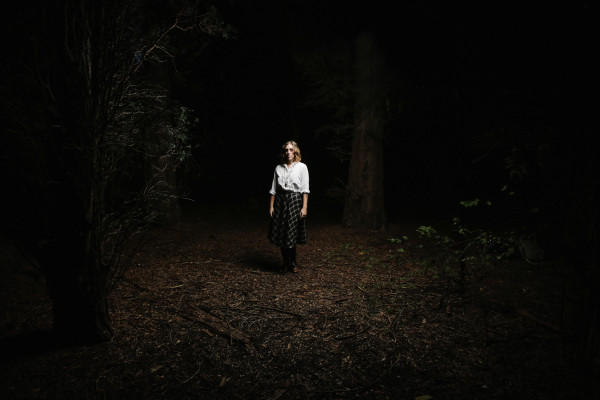 Kaley Lane Eaton presents Lily, an electroacoustic "opera" for voice, live electronic processing and sensors, violas, saxophone, electric harp, piano, choreography, and projected imagery with an original libretto by Felicia Klingenberg. 


Lily explores the psyche and heart of Lily Isabel Bunny, Eaton's great-grandmother, an orphan who fled England at the start of WWI in 1915, alone, 25, female. She took a ship to Montreal and then a train, which she rode to the end of the railroad, arriving at Cascade Tunnel east of Everett, WA. 

Through terrifying, vast electronic soundscapes, intimate instrumental meditations, eerie and intertwining spoken words, and raw melodies that span the range of Eaton's classical and jazz vocal inflections, this piece imagines Lily's grief, exhaustion, joy, and transformation. With Klingenberg's text, full of transcendent clarity and soul, along with the superb skill of some of Seattle's best performers and improvisers, we invite you in to the enormously complicated experience of migration that unites our species.
Featuring:
 Kaley Lane Eaton, voice, electronics; 
Heather Bentley, viola; 
Gwen Franz, viola
; Steve Treseler, saxophones and clarinets; 
Carol Levin, electric harp
; Wei Yang, piano
; Karin Stevens, choreography; 
Rian Souleles, projected images
Kaley Lane Eaton is a composer and vocalist currently based in Seattle, WA. Her work has been performed across the US and internationally, in venues ranging from Hong Kong concert halls, to the streets of Skid Row in Los Angeles. Seattle's Live Music Project calls Eaton's work "startling," "intriguing" and "enjoyable … fresh, thoughtful and, importantly in the nova music area, pleasant on first hearing." With a background as a multi-genre vocalist, instrumentalist, and teacher, Eaton's work crosses genre boundaries, exploring how the voice, body, and unconscious world of the performer can provide musical data through electronics and improvisation. In Spring of 2017, Eaton will be an associate artist at the Atlantic Center for the Arts with master artist Derek Bermel.
In addition to her life as a performer and creator, Eaton is a seasoned teaching artist and arts education activist, having taught in socially conscious music programs around the US. She has developed and taught courses at the Los Angeles Philharmonic's Associate Composer program, Youth Orchestra Los Angeles, Boston Public Schools, Watertown Children's Theatre (Boston), Arts Corps (Seattle), Creative Music Adventures (Seattle), and the University of Washington (Seattle).
Eaton is currently a DMA candidate in composition at the University of Washington and is a Teaching Artist with the Seattle Symphony.
Photo by Arthur Allen (instragram: @moviemensch)
Funded by 4Culture's Tech Specific Program