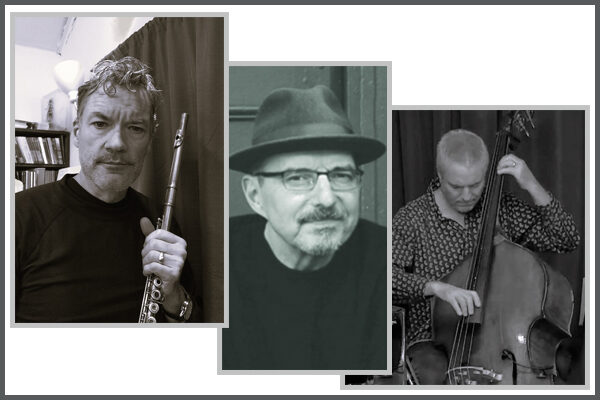 The BadMovieTrio is James DeJoie's newest musical adventure. Furthering the explorations of a "pianoless" group, the BadMovieTrio unapologetically delves into each individual member's sound within the broader context of the trio itself. Through composition and improvisation, the trio strives to create a unique and uncommon sound. From atonal to heart-breaking melodies and back again, the BadMovieTrio aspires to take an unparalleled music journey.
James DeJoie: Woodwinds
Chris Symer: Bass
Greg Campbell: Percussion
DeKirÖpp is a group dedicated to rhythm. Without over-reliance on (perhaps sentimental) harmonic structures, we seek to find the true basis of music through vertical harmony and rhythmic drive. Never losing sight of melody, each player is at once an accompanist and soloist. The improvisation is based on melody and form with the freedom of non-judgmental experimentations. DeKirÖpp is a recent selection in the prestigious "Jazz in the Second Century" Earshot Jazz presentation.
James DeJoie: Woodwinds
Steve Kirk: Trombone
Brian Oppel: Drums