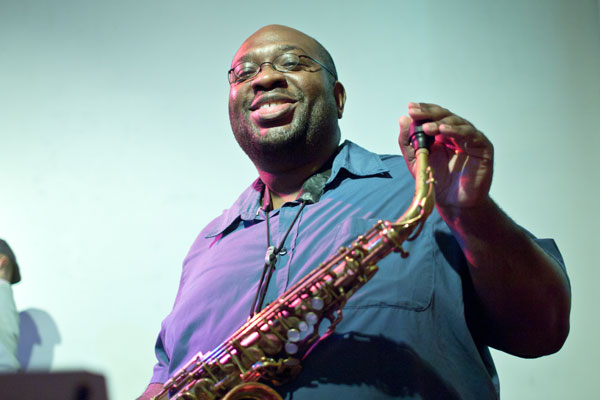 Over the past decade, Darius Jones has created a recognizable voice as a critically acclaimed saxophonist and composer by embracing individuality and innovation in the tradition of African-American music. He has been recognized not only for his dynamic emotional and technical range on the alto saxophone, but for his compositional and improvisational breadth and depth that pulls uncompromisingly from every corner of his self in search of more pure and absolute ways to communicate and be understood. He is equally at home in a classic avant-garde setting with open air to fly as he is composing focused vocal chamber ensemble compositions. At any point in time, he is able to call on the rich melodic histories of soulful blues and church traditions and then seamlessly transition to powerful split-tones reminiscent of Pharoah Sanders and Roscoe Mitchell. In the perpetual unveiling of his own story and relentless pursuit of truth, his extensive command of musicality and humanity promises to reveal something to all who attend.
In the words of Jones, "When we get outside our comfort zones we feel the discomfort from the unknown because we don't know where we belong, where to step. In that lack of knowing, we actually begin to surprise ourselves. We begin to open up, and our perspective widens. We see and understand things we didn't before. I believe that this makes us more patient and compassionate, which can break down barriers of hatred and fear."
Seattle/New York poet and jazz thinker, Paul Harding, will take the stage with Darius after the music set for an interview and discussion.
Presented by Earshot Jazz Festival.