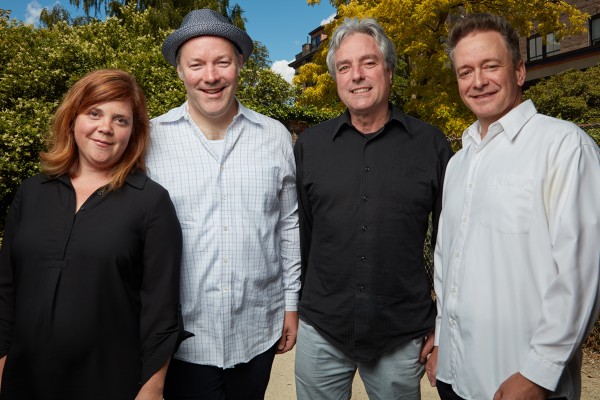 Earshot's Jazz: The 2nd Century program invites Seattle musicians to creatively consider the future of jazz, in any and all of its possibilities. Curated each year by a different "blind jury" from responses to a general call for submissions, the resulting concert series showcases original compositions by Seattle artists on four consecutive Thursday evenings in July.
Inversion Therapy
Inversion Therapy is a group of four Seattle-based improvisers with a long history of collaboration. On saxophone are two Seattle natives: Stuart MacDonald, an active performer and teacher throughout the Pacific Northwest, and Mark Taylor, one of the most in-demand saxophonists in the region. Pianist Dawn Clement, 2015 Northwest Instrumentalist of the Year, and bassist Chris Symer are both frequent performers on the Seattle jazz scene.
Through their music they explore the meaning of family, friendship, and the artist's place in society in the Second Century of jazz. Their music is an expression of collective feelings and experiences, engaging the listener on an emotional level. It is almost entirely improvised, without any written material. The result is a program of freely improvised miniatures, each with their own encapsulated musical ideas relating to the work as a whole.
Gregg Belisle- Chi
Since participating in the 2014 Second Century series, winning a 2015 Golden Ear Award for his debut album Tenebrae, and recently earning his Masters from the UW School of Music, guitarist/composer Gregg Belisle- Chi has become one of the most exciting young musicians in the region. His latest project, entitled "I Sang to You and the Moon," is a song cycle of six poems by the American poet Carl Sandburg, and features Chelsea Crabtree on vocals, Ray Larsen on trumpet, and Chris Symer on bass. This project is Belisle- Chi's attempt to demonstrate the intrinsic relationship between music and lyric.
"It was my intention to write a set of music in line with the art song tradition, where poetry and improvised music intersect and collaborate, yet mutually stand on their own," he says.