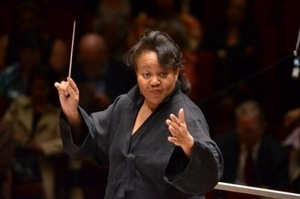 Renée Baker is a violinist/violist, composer, and improviser who has been at the extreme forefront of creative/avant garde music. She has performed and recorded with Nicole Mitchell's Black Earth Strings, Karl E. H. Seigfried's New Quartet and Galaxy String Quartet, the David Boykin Expanse, Orbert Davis, George Lewis, Mwata Bowden, the Great Black Music Ensemble, the Chicago Jazz Philharmonic and the Chicago Jazz Orchestra. She is a member of the Chamber of the Association for the Advancement of Creative Musicians (AACM). Founder and Artistic Director of the Chicago Modern Orchestra Project, Ms. Baker also leads the Mantra Blue Free Orchestra (performing her own work), and is principal violinist and Artistic Director of the Chicago Sinfonietta Chamber Ensemble.
For this concert, Ms. Baker leads an ensemble of twelve of Seattle's outstanding improvising musicians performing works combining conduction, graphic scores, and standard notation: Ivan Arteaga (saxophone), Heather Bentley (viola), Samantha Boshnack (trumpet), Greg Campbell (percussion), Isaac Castillo (bass), Clifford Dunn (flute), James Falzone (clarinets), Beth Fleenor (clarinets), Tiffany Lin (piano), Tari Nelson-Zagar (violin), Greg Powers (trombone, didjeridu), Gretchen Yanover (cello).
Program:
Cabinet of Wonder Suite (world premiere)
i. Another Sphere for Drone Quartet and chamber ensemble
ii. Not This Way for voices and piano
iii. Refusal of Refuses for string trio and piano
RAGE for Chamber Collisions
Altered Consciousness (A spatial conversation between minds)
"In the creation of these works I have endeavored to capture in notes, colors, forms, gestures and lines the commonality of humankind…we are not separate unless we want to be…Artificial boundaries keep us from taking the best from other existences. Here, we meet once again…not in nomadic memories, but in the here and now…sharing our individual cabinets of wonder…" – RB
Presented by Nonsequitur and Earshot Jazz Festival. Interview with her at Second Inversion.