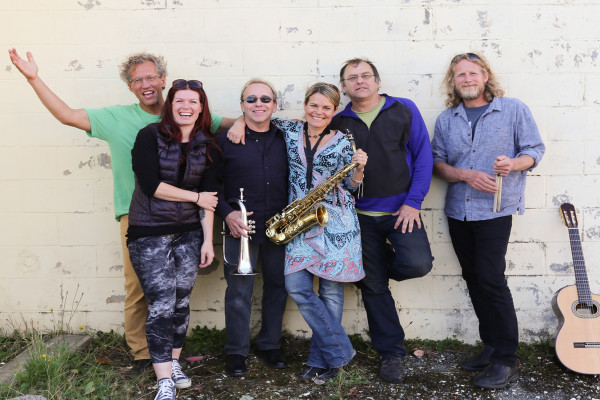 Earshot's Jazz: The Second Century gives voice to the vision of Seattle's fine jazz artists. What is the future of jazz? This concert series seeks to bring the discussion into creative motion where it matters most – on the stage, with an attentive audience.
Back in April 2013, guitarist and composer Michael Whitmore began a weekly residency at the Snapdragon Café on Vashon Island. Over the next couple of years, this Sunday night jam grew into a full-blown ensemble. Since then, Some'tet has been gigging around the Puget Sound, mostly as a sextet, sometimes as a quartet, as a trio, but always Some'tet. The music is both composed and improvised; the overall sound is mellow, almost West Coast cool with moments of intense invention, plus a dollop each of American primitivism, clusters of neo-bossa nova rhythms, and the occasional art song, augmented with a chunk of free jazz and outside music, and soulful vocals. Four elements are important to the music of Some'tet: adventure, beauty, spirituality, and soul.
The members of Some'tet live on Vashon, an island known for its idiosyncratic personality. Barry Cooper (trumpet, flugelhorn) hails from Orange County, CA. For many years he performed with his dad, the renowned SoCal educator Dick Cooper, before moving to Vashon about seven years ago. Dianne Krouse (alto & tenor sax, clarinet) was born and raised in Issaquah. She formally held the lead alto sax chair in the Seattle Women's Jazz Orchestra, and was the first musician to regularly sit in on the Snapdragon sessions. Upright bassist Patrick Christie is a respected professor at the University of Washington, and has led various comparative, socioecological research projects around the world. Dodd Johnson (drums, percussion) hails from Wisconsin and has played with dozens of bands from rock to free jazz. Vocalist and Seattle native Christine Goering met Whitmore at a karaoke session on Vashon. She also leads her own band, Delilah Pearl and the Mantarays. Whitmore was a veteran of the Los Angeles improvised music scene before moving to Vashon about a decade ago. He has a few dozen recording credits under his belt as either a leader and as a sideman, and has received an NEA Composers grant.