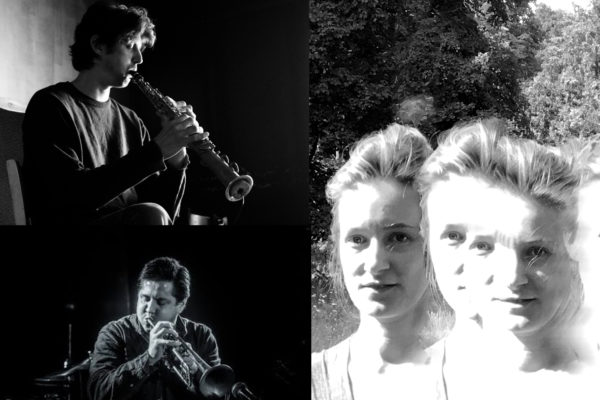 1st set:
Greg Kelley – trumpet
Bryan Eubanks – saxophone electronics
2nd set:
Catherine Lamb – Prisma Interius IV (2017)
for viola, voices, secondary rainbow synthesizer, and trumpet
performed by:
Catherine Lamb – viola, voice
Bryan Eubanks – electronics, voice
Greg Kelley – trumpet
Laura Steenberge – viola, viola d'gamba
Catherine Lamb (b. 1982, Olympia, WA, U.S.), is a composer exploring the interaction of elemental tonal material and the variations in presence between shades and beings in a room. She has been studying and composing music since a young age. In 2003 she turned away from the conservatory in an attempt to understand the structures and intonations within Hindustani Classical Music, later finding Mani Kaul in 2006 who was directly connected to Zia Mohiuddin Dagar and whose philosophical approach to sound became important to her. She studied (experimental) composition at the California Institute of the Arts (2004-2006) under James Tenney and Michael Pisaro, who were both integral influences. It was there also that she began her work into rational Harmonic Space, which became a clear way to investigate the interaction of tones and ever-fluctuating shapes, where these interactions in and of them-selves became structural elements in her work. Since then she has written various ensemble pieces (at times with liminal electronic portions) and continues to go further into elemental territories, through various kinds of research, collaboration, and practice (herself as a violist). She received her MFA from the Milton Avery School of Fine Arts at Bard College in 2012 and is currently residing in Berlin, Germany.
Bryan Eubanks (b. 1977, US) has been developing his music through performance and collaboration since 2001. He has participated in many short and long term projects, and regularly presents his work internationally. Continually active in a variety of contexts: improvisation; composing electronic and acoustic works for small ensembles, solo instruments, computers, and electronics; organizing and curating concerts for other artists; building electronic instruments and experimenting with sound localisation. He currently lives in Berlin.
Greg Kelley has performed throughout North America, Europe, Japan, Argentina & Mexico at numerous festivals, in clubs, outdoors, in living rooms, in a bank, and at least once on a vibrating floor. He has collaborated with a number of musicians across the globe performing experimental music, free jazz and noise, appearing on over 100 recordings in the process.