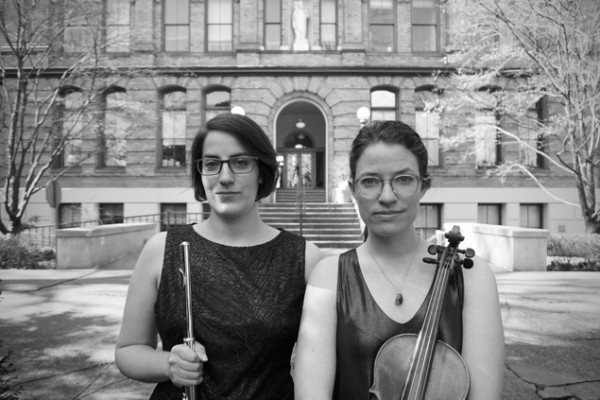 Women are central to mythic stories of death and rebirth, but they are often pushed to the side in patriarchal institutions. Our goal is to reclaim this space and fill it with dynamic expressions of femininity. You can expect chants by Hildegard von Bingen sung by Danielle Sampson and Beth Ann Bonnecroy. Janna Webbon and Sarah Pyle will be in the center of the space doing free musical improvisation and performance art with costumes and make-up.
We invite you to enjoy the experience in whatever way best fits you: on a yoga mat, pillow, or sitting in a chair. You can bring crafts like knitting or cross stitch if you like to keep your hands busy. There won't be any audience participation like being singled out or having to speak (a nightmare for those of us with social or performance anxiety). It will be all-ages friendly; we would love for this to be an intergenerational event.
Janna Webbon, violinist and improviser, is curating this performance. She suffers from panic disorder, and the Chapel has been one of her trigger places for a few years. While this is an artistic endeavor, it's also a goal post for her to reclaim a space and to be herself in a place she felt she didn't belong. She works in administrative support in health research during the weekdays and is a socialist organizer on the weekends.
She collaborates with Sarah Pyle, flutist and musicologist. Her scholarly interests span a wide range of topics and eras regarding music and gender, including interpreting musical iconography of the Late Renaissance and Baroque eras. She has premiered more than forty works by American composers at concerts throughout Oregon and Washington. Sarah has used her expertise and artistic expression to make pivotal contributions to the development of this project. Janna and Sarah regularly go on hiking trips together.
Danielle Sampson is an avid performer of baroque, classical, and contemporary music. She is known for her "youthful and light timbre" (Classical Voice North America) and "a compassionate calm and a warm, glowing tone" (Boston Globe). Danielle and Janna got to know each other performing and recording Neil Welch's "Concepcion Piciotto."
At Seattle Pacific University, Beth Ann Bonnecroy teaches voice and conducts the SPU Women's Choir. Beth Ann is a frequent soloist at recitals all over the Seattle area. She is currently a member of the music staff of Phinney Ridge Lutheran Church in Seattle where she conducts the Chancel Choir and Handbell Choirs. Janna is an alto in her church choir, and Beth Ann has been very supportive in helping Janna feel welcome at church and in the choir.