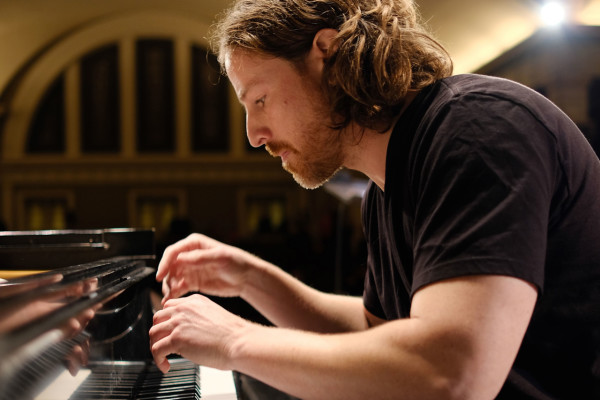 ONLINE SALES HAVE ENDED BUT A LIMITED AMOUNT OF TICKETS WILL BE AVAILABLE AT THE DOOR. DOORS OPEN AT 7:30pm. TICKET SALES START AT 7:15.
Seattle-based pianist Jesse Myers performs Philip Glass' monumental Etudes for Solo Piano in a visually immersive concert which will be synchronized with colorful, moving light projections on the ceiling and walls of the beautiful Chapel Performance Space. Myers will perform half of Glass' twenty complete etudes, which will span a wide range of textures, tempi, and piano techniques. The audience is encouraged to get comfortable, bring a mat or pillow to lie on the floor to enjoy this audio-visual, immersive experience. Chairs will also be provided.
Seattle-based pianist Jesse Myers is an adventurous explorer of music that expands the possibilities of the piano. With a strong interest in performance that pushes piano music into new realms, Myers frequently performs music for prepared piano, new music for piano and electronics, as well as traditional classical literature. He is a performer, educator, and composer with a goal of giving the audience a fresh perspective of the piano and an imaginative understanding of the music. His solo concerts have been featured in City Arts Magazine, KingFM, Second Inversion, Seattle Weekly, The Live Music Project, and were a part of The Strangers Best Concerts of 2017 for three seasons. His recent work with the prepared piano and electroacoustic music has led to tours across the country including artist residencies and guest performances at Cornish College of the Arts, Capital University Conservatory of Music, Bowling Green State University, Lewis University.
Jesse Myers has a Master of Music degree from the University of Washington in piano performance. He also attended Bowling Green State University, where he earned his Bachelor of Music in piano performance. His important teachers have been Robin McCabe, Virginia Marks, Valrie Kantorski, Frances Burnett, and Marylin Shrude.
Photo: Lee Goldman