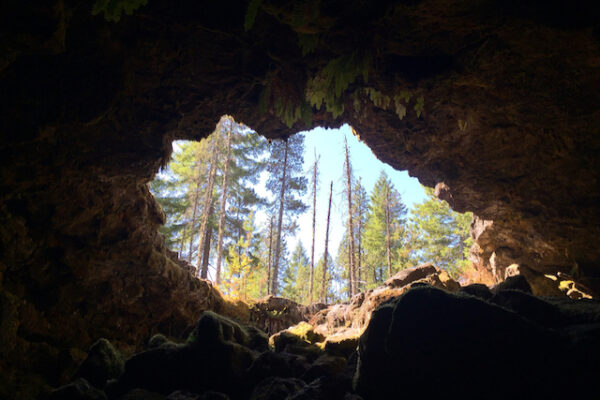 Joey Largent presents his expanded solo work for ten amplified cymbals as a 3-hour immersive, durational performance in collaboration with movement artists Katrina Wolfe and Kawtee Wolfe, who will join collectively with delicate, continuous, improvised movement throughout. The piece will be performed in near darkness in pairing with hypnotic field recordings captured in the terminal chamber of the continuously dripping Falls Creek Cave. The work is inspired by a composition written in 2018 for Ole's Cave near Mount St. Helens.
The work is a continuation of compositions from Largent's recent site-specific release, Below Diorite Waters (Dragon's Eye Recordings, 2021), using continuously malleted, closely mic'd cymbals to explore the natural harmonic relationships between cymbals, and to magnify their organic layers of overtones in a sensorially-limited environment. The piece uses no electronic processing, EQ, or effects beyond amplification.
Those who attend are invited to enter with a dim flashlight or headlamp (putting it out once seated), and are free to come and go at any time, or remain for the entirety of the piece. Seating will be primarily on the floor, with a few chairs for those who need them. All who attend are encouraged to bring floor pillows, blankets and any other items comfortable to them to the space. 
Joey Largent is a composer and performer exploring relationships between sound, environment, and context, focusing on improvised music for dance and long-duration solo and ensemble compositions, often working with just intonation, improvisation, and long, subtle tones that gradually unfold over time. Much of his performance and recording practices are created in or inspired by site-specific, isolated locations in nature. Joey's compositional style comes from studies in Southeastern European folk music, butoh, improvisation, microtonality, and North Indian classical music. Amongst others, he has studied with Rose Okada, Michael Harrison, Tatsuya Nakatani, Jung Hee Choi, and La Monte Young. Joey's work seeks to produce deep feeling and experience through sound — one that is strongly immersive, sensitive, and relational to the experience of feeling full presence in an environment, attempting to offer the opportunity to explore the expansive qualities of place, self, and memory through listening alone.
Katrina Wolfe is a movement artist and visual artist, primarily focused on performing and teaching the technique of Motion Awareness (Ma), which she has developed by integrating her experience in Butoh with foundational aspects of Vipassana Meditation. After years of practicing figurative sculpture, Katrina's visual artwork has shifted to the creation of installations and costumes made from organic and recycled materials, which are a key element of her performances. The practice of Motion Awareness in site-specific, and especially remote, natural locations is an intrinsic part of Katrina's work, serving as a constant reminder that the human body is simply another aspect of nature. Her work seeks to offer both viewer and practitioner increased awareness of the universality of impermanence, resulting in the cultivation of intention, empathy, and compassion in all aspects of life.
Photo: Joey Largent; Ole's Cave Entrance, Mount St. Helens
COVID-19 PROTOCOLS: Following current mandates from King County & WA State public health officials, all audience members at this performance will be required to wear masks regardless of vaccination status. Proof of vaccination status and/or recent negative COVID test result will be required for entry. Additionally, chair seating will be arranged to maintain social distancing; people who live together may group chairs accordingly. Windows will be open, weather permitting.