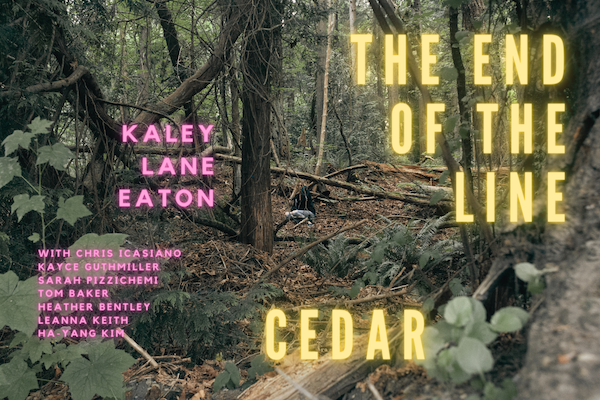 Composer, pianist and vocalist Kaley Lane Eaton celebrates the release of her new debut solo album cedar, featuring Seattle luminaries Tom Baker (guitar), Heather Bentley (viola), Leanna Keith (flutes) and Ha-Yang Kim (cello). She also premieres a new work, the end of the line, featuring Chris Icasiano on drum set and vocals, Kayce Guthmiller on viola and vocals, Sarah Pizzichemi on violin, and Eaton on lead vocals, piano, and electronics.
cedar is an electro-chamber pop song cycle that is equal parts origin story and manifesto. Written in the dead of lockdown and the west coast wildfire crisis of 2020, cedar ties the loss of mother, to the loss of societal intuition, to the loss of beloved landscape that we collectively face. Eaton's orientation in both art song and ambient IDM, intertwined with the virtuosity of Seattle's best neo-jazz and classical improvisers, captures a distinct Pacific Northwestern aesthetic: tuneful beauty, solitude, and destructive noise.
the end of the line is Eaton's newest song cycle: "Forged in my mind over many months during and after my reading of Richard Powers' The Overstory, the end of the line articulates the experience of passing time through the lens of various important trees in my life: the native forest my own age grown from seed in my childhood front yard, the beloved hemolocks, sequoias, redwoods, and Douglas firs I've come to know and love on my daily commute, the Jeffrey pines of California, my kitchen table made of Western red cedar, the mystical bristlecone pines of the Great Basin. As the stories of these trees intertwine with my own human narrative, I can hear the elusiveness of time. We cannot grasp it, it moves without us, it leaves us behind, it ages us, it precipitates loss and birth. It will never end."
COVID-19 PROTOCOLS: For the safety of all present, audience members are asked to show proof of vaccination and wear masks covering nose and mouth.