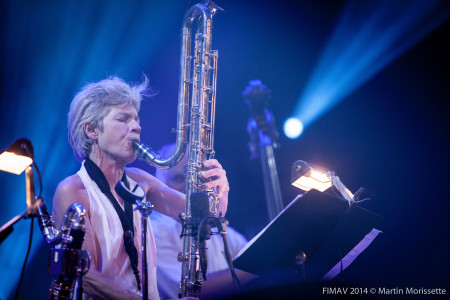 The brilliant Canadian clarinetist Lori Freedman performs THE VIRTUOSITY OF EXCESS, a solo concert of music for bass clarinet and contrabass clarinet. The title is a quote from the French composer Raphaël Cendo, referring to the exploration (and sometimes exploitation) of the beauty of extremes. The program is about 50 minutes in duration and features music which travels all over the limits and thresholds of the low clarinets, obscuring what is possible and what is not; it includes three works commissioned especially for this tour, and has been constructed like a full course meal with careful attention paid to the accumulation of rich but varied "food groups" – the aural palate and the psycho-sensorial tastes:
Brian Ferneyhough Time and Motion Study I (1977) for bass clarinet
Paul Steenhuisen Library on Fire (2015) for bass clarinet
Richard Barrett Interference (2000) for contrabass clarinet, voice and kick drum
Lori Freedman Solor (2016) for bass clarinet
Paolo Perezzani Thymos (2014) for contrabass clarinet and voice
Lori Freedman is part of a movement of "renaissance musicians," whose artistic practices span a gamut of activity in making music. Heralded internationally for her provocative and creative performances in both solo and ensemble settings, Freedman's work encompasses composing, improvising and interpreting scores written by others. As an interpreter of written music for clarinet, hundreds of works have been premiered by and/or dedicated to her. Full bio here. (photo: Martin Morissette)
This brim-full evening of musical contrasts concludes with guitarist Seth Josel performing the US premiere of point/wave (for steel string acoustic guitar and environmental chord cycle) (2015), a gorgeous new 45-minute piece for steel-stringed acoustic guitar and live ambient sound processing by composer Cat Lamb. "point/wave is an aggregate composition with an indefinite return. Resonating points of the guitar smear and coalesce with the filtered environment, creating a continuously fluctuating, cyclical tonality." (listen here)
Originally from New York and now residing in Berlin, Seth Josel has been highly committed to working with several of the leading young composers of our time. Catherine Lamb (b. 1982, U.S.) is a composer dedicating herself to the elemental interaction of tone—by the investigation into partial theory (extended just intonation) and variations in presence of materiality/field within unfolding forms/structures. She has written for numerous musicians/ensembles in North America and in Europe. Her most influential mentors have been Mani Kaul, James Tenney, and Michael Pisaro. She currently resides in Berlin.
Presented by Nonsequitur. Lori Freedman's Virtuosity of Excess tour has been generously supported by the following: