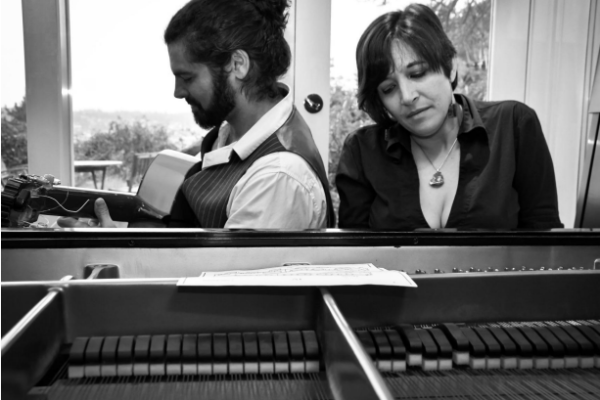 Marina Albero and Luis Gallo are truly captivating performers from Spain. Albero's piano and hammered dulcimer playing is an absolute celebration of life, her spirited performances are intelligent, uplifting, and delightfully engrossing. Luis is a creative flamenco player and composer who engages with the audience through his accurate rhythm and passionate phrasing. Together they have crafted a unique repertoire of original and traditional sounds along with some jazz, Latin and flamenco standards. The evening will be lively, it will be heartfelt.
Based in Seattle since 2015, pianist, composer, and educator Marina Albero deftly draws on a lifetime of music tradition, from her native Barcelona in classical and early music as well as flamenco, to Cuba and Son Cubano, to American jazz. Her celebrated triple album A Life Soundtrack contains an all-improvised volume called Agua of solo and duos with Hans Teuber as well as originals and jazz standards. Albero was the recipient of Earshot's Golden Ear Award as Emerging Artist of 2018 and she has been awarded as best instrumentalist and best record of 2019. In 2020 she started The Quarantine Sessions as a space for female artists to share and perform together during pandemic times; this initiative has been recently awarded with a Golden Ear "Community in Action" award. In 2021 she was the resident Artist at the Earshot Jazz Festival where she presented four different concerts that received a great and warm response by the audience and critics. She has performed and recorded with renowned national and international artists such as Chano Dominguez, Jeff Johnson, Thomas Marriot, Ganesh Rajagopalan, Thomas Marriot, Charlie Porter, D'Vonne Lewis, Rizzo, Glen Velez, L'Arpeggiata, Carlos Saura and many others. Albero is currently piano professor at Cornish College of the Arts and adjunct faculty at Western Washington University.
Luis Gallo is a Spanish musician, composer and producer based in Madrid, Spain. As an educator, Luis has conducted guitar workshops worldwide since 2010. Due to his conservatory musical background, and emphasis in flamenco and jazz education, he has been involved in a myriad of presentations of flamenco music. These performances include his work as a solo musician for family-oriented music projects and TV shows (X Factor, MTV Select, and TVE's Club Pizzicato), as well as recorded and live appearances or University guitar workshops. Luis is a specialist in working with musicians from many different musical genres. He brings his unique flamenco-jazz guitar performance skills to diverse music styles, from classical to Indian folk music, playing on some of the most renowned international music stages, and in festivals around the world. Because of his specialized talent, Luis Gallo has worked for famous, eclectic artists such as Ara Malikian, The London Royal Opera House Orchestra, Raimundo Amador and Vasko Vassilev among others.
COVID-19 PROTOCOLS: Following current mandates from King County & WA State public health officials, all audience members at this performance will be required to wear masks regardless of vaccination status. Proof of vaccination status and/or recent negative COVID test result will be required for entry. Windows will be open, weather permitting. Given the constantly changing nature of the pandemic, all events are subject to cancellation on short notice. Check back here on the day of the show for updated info.