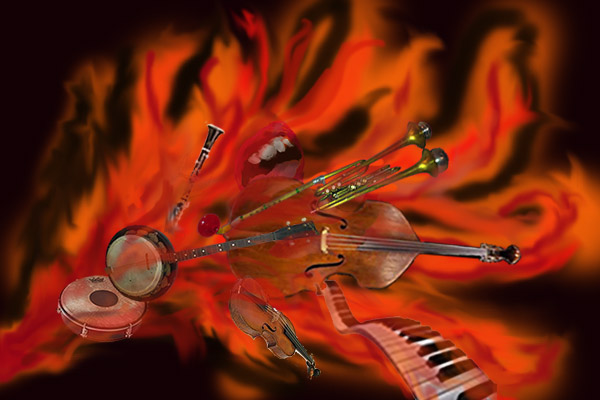 Sacramento-based free-improv banjoist Mike Marlin returns to Seattle to team up with co-
conspirators in a series of duets, trios, and ensemble with music to set a backfire against the raging inferno of ridiculosophy and abandonment of reason.
Mike Marlin approaches the banjo as a melodic, atonal, and percussive instrument to be shaken, stirred, beaten, plucked, and even strummed. With an ear toward sonic exploration and a nod to his grandfather Ted Marlin, who played tenor banjo in swing bands in the 1920s and 30s, Mike has adopted the banjo and focused primarily on free improvisation, including Dubious Duo, a 35 year collaboration with Boston trumpeter Eric Dahlman.
In Seattle from 1990 to 2005 Mike played solo and in a variety of settings and groups such as Plutopolis (with Angelina Baldoz, Jeph Jerman, and the recently departed Paul Hoskin) and Pulp Ensemble (with Jim Knodle, Troy Grugett, Jesse Canterbury, Mark Collins, and Bob Rees). In 1997 Mike co-founded The Tentacle magazine and with his cohorts provided a free, journalistic outlet for the Pacific Northwest creative music scene for many years. Mike has also performed with his wife Debra Scott as folk duo Haggis' Revenge and as free improv duo Sympathetic Toe.
This evening will feature duets, trios, and an ensemble piece to round out the set of loosely
constructed and completely free improvisations. The theme will be a sonic purge to exorcise demons ideally leading to a positive, temporal shifting of civic space. The lineup includes Mike on banjo and prepared objects, Eric Dahlman and Jim Knodle on trumpets, Tari Nelson-Zagar on violin, Keith Eisenbrey on piano, Debra Scott on voice, Carl Juarez on guitar and miscellaneous percussion.