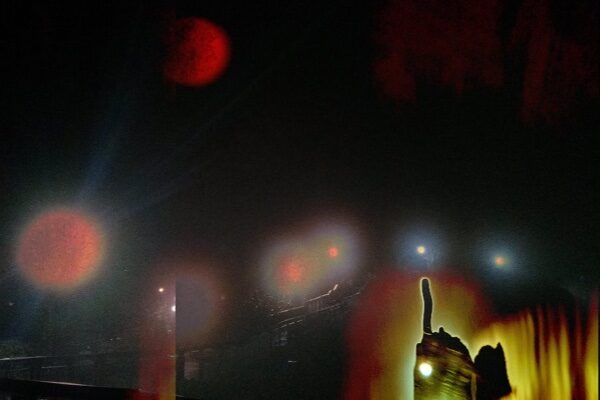 Obscure & Terrible presents a dual cassette release show featuring Orgone Donor and RN White with an opening set from John Saint-Pelvyn.

Originally assembled as an aural complement to a paranormal-themed museum opening show, Orgone Donor (V.Vecker, Dustin WIlliams, Riley Reasor) are a dense fog of electronics and saxophone. After their first show slated to take place March 13th, 2020, was cancelled and much of the world went into lockdown, the improvised synth trio morphed into a remote recording project. The temporal suspension induced the members of the group to exchange and layer their home recordings, creating a shared imaginary space which expanded from synthesizers to include tenor sax and electric piano. Their debut album Two Maps as Parallel Mirrors collects the results of these collaborations and reclaims a landscape of dislocated phrases and drones that triangulates the cities of Vancouver, B.C., Seattle, and Bellingham circa fall of 2020.
RN White is the harsh noise scraped from the mind of Seattle's Rachel N LeBlanc. LeBlanc served as a longtime booking agent and organizer in the Seattle noise and experimental community, chiefly for Debacle Records and Hollow Earth Radio. Though RN White is her first outing alone conjuring brutal chasms of sound, she was previously half of guitar-torturing duo #tits and the snotty-voiced guitarist of improv noise ensemble WaMu. There's also her solo hymnal-drone project Blessed Blood. On her debut album Cerebral Split LeBlanc connects to her own personal darkness, drawing out the blackened soundtrack from within.
John Saint Pelvyn is one of the singular voices of underground music in the Twin Cities. A regular tour-mate of legendary denatured banjo exorcist Paul Metzger, Pelvyn is someone who sounds unmistakably like only himself the second he picks up his instrument. His combination of behind the bridge picking, rapid whammy bar shaking and churning feedback is a subtle dance that rivals the abilities of many greats, from psychedelic improvisational noise to piedmont-picking fingerstyle acoustic—but one he alone inhabits.

(Art by Sean Waple/Rachel LeBlanc)
COVID-19 PROTOCOLS: Following current mandates from King County & WA State public health officials, all audience members at this performance will be required to wear masks regardless of vaccination status. Additionally, chair seating will be arranged to maintain social distancing; people who live together may group chairs accordingly. Windows will be open, weather permitting. Audience should be aware that some performers will be singing or playing wind instruments.