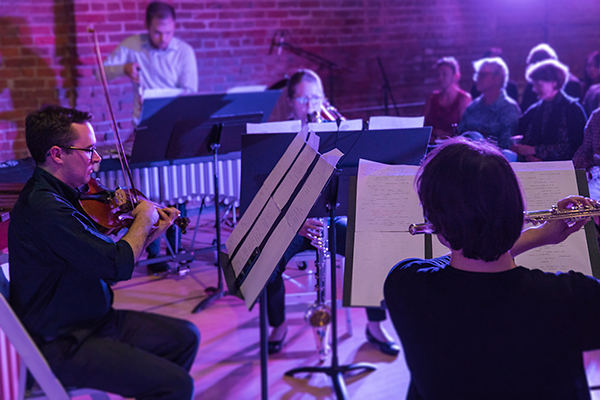 Retrace the patterns of dreams with a night of music inspired by the writings of James Joyce. Amidst a program ranging from Arvo Pärt's mystical minimalism to Ruth Crawford Seeger's grittily angular music, Sound of Late unveils the world premiere of Book of the Dark by American composer Alan Shockley. Leave your expectations behind and enter into a unique sound world with open ears and an open mind.
Ruth Crawford Seeger's Diaphonic Suite No. 1 for solo flute is a desultory rumination on the serial process. Always bold, and at times melodic and singing, this soliloquy stands as the athletic and energetic statement that sparked the composer's New York phase.
Originally set for choir to the Christian Credo, Arvo Pärt's Summa has been arranged for any number of instruments. The piece's vocal origins are clearly heard in the phrasing and cadence of the moving instrumental lines of the clarinet, violin, viola, and cello. Pärt's emotive music is at once stark and lush, soaring and emotive, with harmonies that rend musical space.
Commissioned by and dedicated to Sound of Late, Alan Shockley's Book of the Dark is scored for flute, bass clarinet, violin, viola, cello, and double bass. The music is filled with haunting chordal snippets and passages that seem like wisps of dreams, with instrumental textures that range from gauzy to windswept and wild. With multilayered reference to Joyce's Finnegans Wake, John Dowland's Lachrimae, as well as occult numerology and other symbolic texts, Book of the Dark provides a focal point for this evening's dive into the introspective and iterative qualities of art.
Founded and run by a tightly-knit collective of young professional musicians, Sound of Late is at the forefront of an exciting new generation in classical music. Since their first house concerts in April 2015, the ensemble has performed 20 concerts across Oregon and Washington and premiered more than 40 works by American composers, making them the most active incubator of new classical music in the Pacific Northwest.