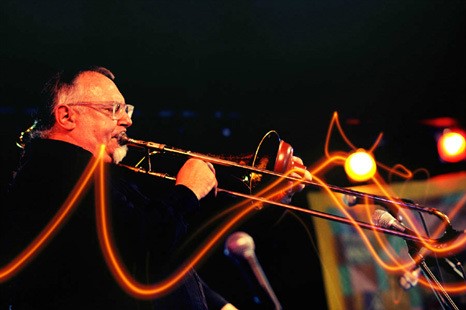 Robert Millis is a founding member of Climax Golden Twins and AFCGT, a solo artist and a frequent contributor to the Sublime Frequencies label. Millis has scored long and short films, created sound installations, produced and designed audio projects, and released many LPs and CDs. His work veers haphazardly between sound art, music concrete, instrumental, improv, field recording, song and collage. Millis has a deep interest in folk and traditional music, so imagine Pete Seeger trying to cover Revolution 9 by the Beatles.
The Vlatkovich 5tet is an ensemble of possibilities. The group focus is to explore and create new possibilities. The possibility of five musicians moving the jazz tradition forward by their non-traditional interactions of melody, accompaniment, harmony, and rhythm. The quintet explores the relationships each of the instruments in the group have with one another. The possibility of changing the orchestration. The possibility of instrumental roles expanding and contracting. The possibility of possibilities is the quest. Creating new music that changes with each listening. Changing not to make the composition unrecognizable, but to develop the core ideas and concepts, to explore all the possibilities. The 5tet demonstrates that the possibilities are infinite. Michael Vlatkovich, trombone; Jim Knodle, trumpet; Jared Burrows, guitar; Clyde Reed, bass; Greg Campbell, drums and French horn.
Presented by Zero-G Concerts.