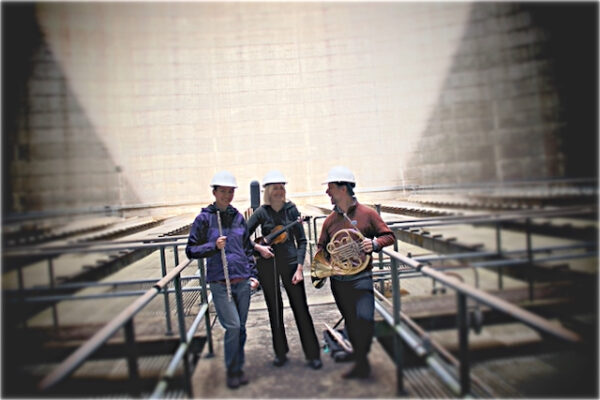 Ewa Trębacz (pronounced Eva Trembatch) is a Polish-American composer, an interdisciplinary artist and a violinist-in-disguise. Exploring the unique interaction between the musician and their acoustic environment, she often uses space as a catalyst for improvisation, working through Ambisonic recording sessions in acoustically inspiring spaces. Listen on SoundCloud.
A freelance flutist, artist, improviser, and composer, Leanna Keith delights in creating sound experiences that make audiences laugh, cry, and say: "I didn't know the flute could do that!" Her performance artworks have focused on cultural connection and the breaking of audience/performer boundaries. Support on Patreon.
Josiah Boothby is a versatile hornist devoted to new music, with a particular focus on improvisation and creative collaboration with composers and other artists. When he's not playing his horn or teaching, Josiah can be found hiking and climbing around the Pacific Northwest, blues dancing, or staying in to engage in kitchen alchemy.
The Tower of Broken Mirrors
Josiah Boothby, French horn; Leanna Keith, flutes; Ewa Trębacz, violin & electronics
The soundscape emerged from our collective hallucinations at the CT3 cooling tower at Satsop Nuclear Plant. We improvised in the space and the tower sang along, adding its lovely echoes.
Some of the electronic sounds were played back live in the tower with a small 360 loudspeaker – as we improvised to pre-composed phrases. Later Ewa mixed in more electronics for more flavor, and blended it all together. All of the sounds were recorded, processed and mixed in Ambisonics (by Ewa), the version presented here is a binaural mix.
With the Chapel closed indefinitely due to the COVID-19 pandemic, the Wayward Music Series moves from the concert hall to the living room. In place of our usual ten monthly concerts, Nonsequitur is commissioning ten Seattle artists each month to create a series of streaming audio sessions of previously unreleased material.