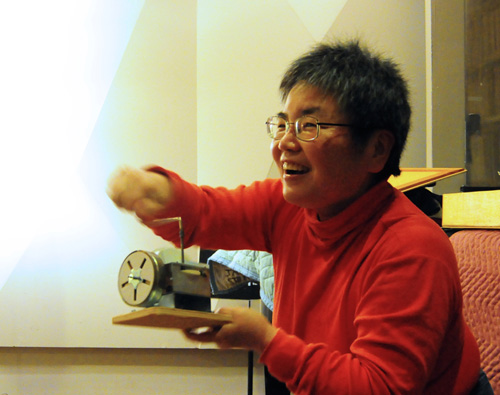 Susie Kozawa, a sound artist, composer and performer, works mostly with sound collages and site-specific installations, in which the gathering of sounds is a primary activity. She explores different acoustic spaces using musical instruments she makes out of found objects, kelp, modified toys and human voice. She is a member of the Seattle Phonographers Union and creates sound design for dance, film and theater productions.
This sonic exploration of the Good Shepherd Center Chapel made use of the following sound sources: Baliphones (sax & bass), Hum bows (rubber band & tape), Balloon jars (w/ marbles), Boeing surplus aluminum block, Wiggly gigglys, Boom ball racket (magnetic ball & sucker ball), Crank top music box, 7-11 Slurpee cup, spinning saw disc, rocks, voice.
(photo: Esther Sugai)
With the Chapel closed indefinitely due to the COVID-19 pandemic, the Wayward Music Series moves from the concert hall to the living room. In place of our usual ten monthly concerts, Nonsequitur is commissioning ten Seattle artists each month to create a series of streaming audio sessions of previously unreleased material.