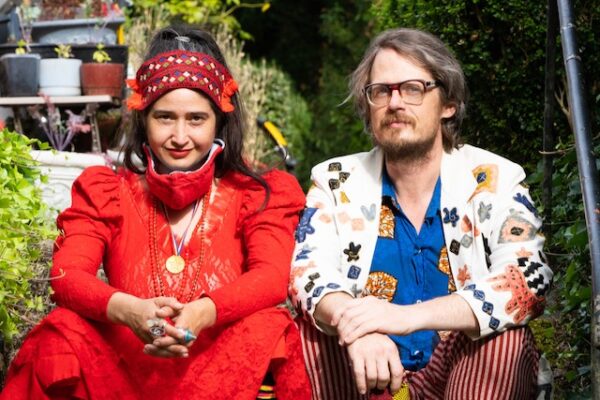 China Faith Star is an auto-didactical, overly practical, visual trickster, sound/word mixer. Born in Los Angeles to Punk Flower Children and raised in a world of diverse interactions, she fled to the woods to bathe with trees. She writes poetry, occasionally. Mostly she conjures ideas, transmuting socio/political/emotional concepts into aesthetically visceral maps/translations: popping color, repetitious pattern, dimensional texture, expressionistic, meditative. Her medium-diverse visual artwork, animation, theatrical, word-smithing and musical performances have been exhibited in 25 cities nationally / internationally and her work has been added to public and private collections.
Arrington de Dionyso synthesizes the iconoclasm of No-Wave Punk with the primordially potent universalities of Albert Ayler-era Free Jazz. Founder of Olympia-based experimental rock groups such as Old Time Relijun, Malaikat dan Singa, and the ecstatic protest-jazz band This Saxophone Kills Fascists, he has also performed alongside many luminaries of the decentralized global music scene including collaborations with Senyawa, the Master Musicians of Jajouka, Maher Shalal Hash Baz, and many ensembles of Jathilan trance music throughout Indonesia. In 2019 he was the international headliner at the Khöömei in the Center of Asia Festival, in Kyzyl, Tuva.
Hindsight 2020 is an aleatory composition in 13 fragmented movements: trepidation, determination, isolation, observation, integration, breathing, anxiety, reaction, duration, injustice, overwhelm, hopefulness, and the unknown. Performed here by Arrington de Dionyso (bass clarinet, Indonesian lalove flute) and composer China Faith Star (soprano saxophone, electronic components), the piece includes samples submitted from across the globe of various artists breathing, field-collected recordings of protests and responders, nature, and electronically composed themes from sourced content. More than a chronological document, the work seeks to create a mood of sustained catharsis in an allegorical response to the experience of living through the year 2020, the drastic shifts and imbalance, the visceral emotive and pensive moments, and the opportunities to capture field recordings of the myriad social reactions to a year rife with death and injustice, anxiety and political clashing, police response and the chorus of nature amplified in times of shutdown.
With the Chapel closed indefinitely due to the COVID-19 pandemic, the Wayward Music Series moves from the concert hall to the living room. In place of our usual ten monthly concerts, Nonsequitur is commissioning ten Seattle artists each month to create a series of streaming audio sessions of previously unreleased material.