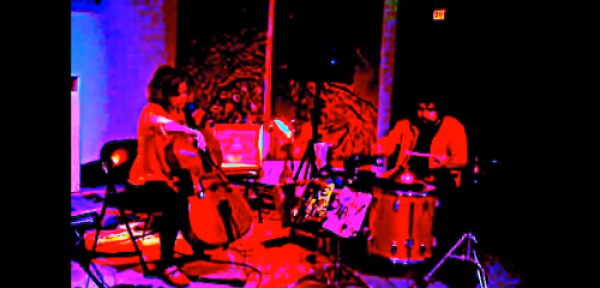 ZE BIB! is a collaborative effort between cellist/electronic musician Shanna Sordahl and percussionist Robert Lopez. Debuted in the warm Oakland summer of 2013, ZE BIB!'s music grapples with the spastic intensity arising from explorations into sound worlds developed both collectively and independently. As active musicians for a variety of projects in the Bay Area, Lopez and Sordahl's extreme musical interests converge with explosive force. A desire to continuously expand and reinterpret their relationships with their instruments leads to an ever exciting dynamic that will intrigue and entrance. Their music is tinged with influences ranging between noise, free improvisation, art rock, and heavy drone.
Greg Kelley has performed throughout North America, Europe, Japan, Argentina & Mexico at numerous festivals, in clubs, outdoors, in living rooms, in a bank, and at least once on a vibrating floor. He has collaborated with a number of musicians across the globe performing experimental music, free jazz and noise, releasing a number of recordings in the process. He constantly seeks to push the boundaries of the trumpet and of "music."
Wally Shoup Sax Trio + One finds Shoup in a slightly unconventional configuration exploring infrequently charted terrain. Throughout, Shoup and company construct songs that may reference Rova Sax Quartet or Art Ensemble of Chicago zones but embellish and build upon these influences into bracing new territories…a truly unique sound. Shoup enlists some amazing young players on the Seattle free improv scene: Neil Welch (tenor sax, also a member of Bad Luck & King Tears Bat Trip), Jacob Zimmerman (alto sax) & Carmen Rothwell (double bass). The four pieces on Copaesthetics (Astral Spirits) cover a wide stylistic range, from the opening Ayler-esque crys into full blown Ascension-style fire music, eventually flowing into beautifully melodic passages and further into the dark sounds of "Dark Luminescence." An enlightening experience where the group shows their collective experience fully and honestly.