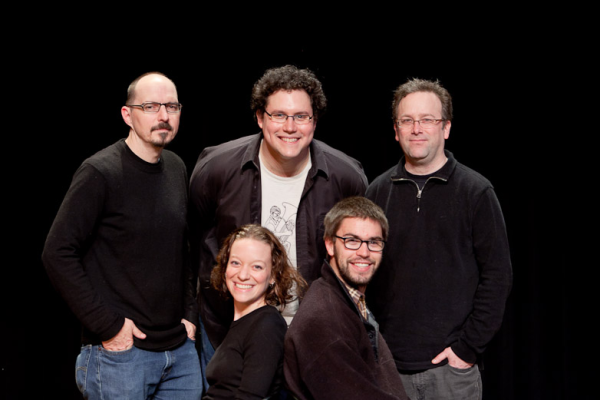 The Spite House Band blossomed out of weekly sessions of improvised music organized by composer/pianist/vocalist Stephen Fandrich with the Monktail Creative Music Concern. Fandrich now hosts these weekly events at his home, a long-time oasis for artists on Capitol Hill, in spite of manic high-rise development. Curated by a community of local musicians, the Spite House Series explores performer/artist intimacy and immediacy; music as energy, acoustic, kinetic, precise. Each week's performance opens with an invocation by the Spite House Band featuring Stephen Fandrich (piano), Beth Fleenor (clarinets), and Bill Monto (saxophones). In celebration of Monktail's 15th anniversary they will perform a special set in the acoustic womb that is the Good Shepherd Chapel.
Ask the Ages is a Seattle-based avant-jazz band. Formed in 2010, the group includes Greg Campbell (drums and percussion), Steven Bell (vibraphone), Brian Heaney (electric guitar), Kate Olson (saxophone/woodwinds), and John Seman (contrabass). The band has also collaborated with an international cast of stellar musicians including Stuart Dempster, Melissa Walsh, Archana Bennur, Bora Ju, and Dale Speicher. Among their influences are Sonny Sharrock, Sun Ra, Alice Coltrane, and Pharoah Sanders.
Fulfilling the need for an outlet for music that blends modern jazz, progressive rock, and the unclassifiable, Zero-G Concerts is a co-presentation of leading Seattle instrumentalists Jason Goessl, Dennis Rea, John Seman and Rik Wright. With a focus on forward-thinking instrumental music, Zero-G Concerts spotlights a multifarious selection of the region's most adventurous instrumentalists from diverse scenes, from accomplished scene veterans to head-turning emerging artists. The first Zero-G event was held in October, 2010 at the venerable Mars Bar (RIP) in Seattle WA. The organization has since expanded to present events at numerous venues in the Seattle area, including the Comet Tavern, Egan's Ballard Jam House, The Mix, Lucid Jazz Lounge, White Rabbit (RIP), Lo-Fi Performance Gallery, the Royal Room and the Chapel Performance Space.