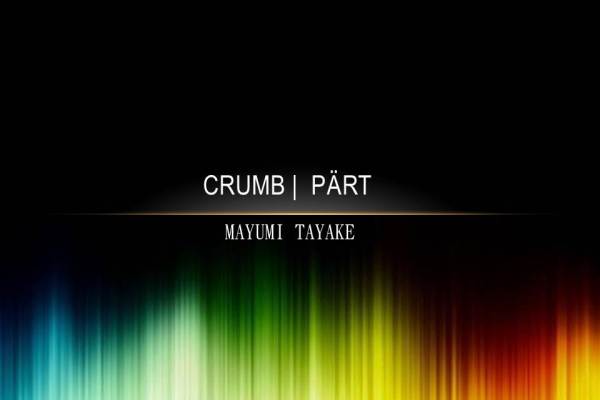 Seattle-based pianist Mayumi Tayake plays George Crumb's Makrokosmos Volume II for amplified piano, and Arvo Pärt's Spiegel im Spiegel.
Breaking free from traditional score writing, George Crumb is a composer who is full of unique ideas which are fascinating in theory while maintaining the beauty of the musical essence in his writing. Crumb's haunting melodic lines create an unearthly sonic experience that leaves the listener with an unexplainable feeling of loneliness while also possessing a sound of hope at the conclusion. A video presentation of Crumb's composition sketches as well as quotes that influenced him to write this music will be presented before the performance.
Following the Makrokosmos, Arvö Part's Spiegel im Spiegel (Mirror inside the Mirror) will be performed on piano with violinist Sharyn Peterson. The performance will be accompanied by projected images to enhance the listening experience.
Mayumi Tayake has had an engaging career as a performer and as a music educator. The artistic freedom that contemporary compositions bring to the table drives Tayake today. Experimental staging and working with different media to stimulate the five senses have been her main interest in a live performance. To break free from the traditional piano practice and from the historical interpretations, gives her opportunities for new discoveries. Tayake received her Doctoral Degree in Piano Performance from the University of Washington with her dissertation on The Performance Guide to Makrokosmos Volume II.