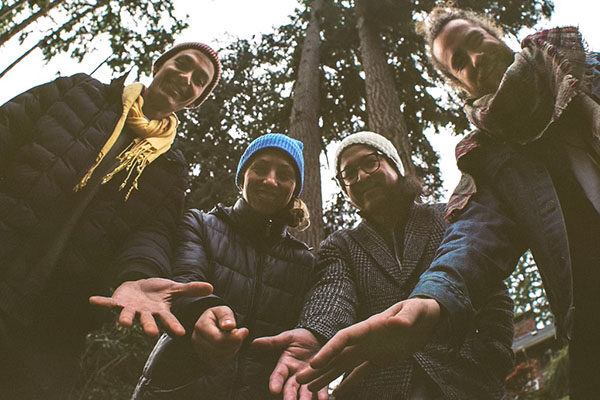 DUE TO CONCERNS ABOUT THE CURRENT SURGE IN COVID-19, THIS SHOW HAS BEEN CANCELED. WATCH FOR RESCHEDULE DATE.
EarthtoneSkytone, the intrepid electro-acoustic songwriting quartet led by Carlos Snaider and Kelsey Mines, curate a night of synth-laden jazz and creative music with an opening set from local pianist/singer-songwriter Crystal Pupa.
EarthtoneSkytone is a multi-dimensional electro-acoustic quartet from Seattle. Traversing jazz, experimental pop and introspective songwriting, ETST presents an extended quest to generate mysterious sound worlds where deep listening can happen. At once expansive and meditative, ritualistic and playful, their music reflects the abundance and balance of the natural world and the outer reaches of inner sound. EarthtoneSkytone began as a duo between guitarist Carlos Snaider and Kelsey Mines in late 2018, and since 2021 has expanded to a quartet featuring Antoine Martel (synths + electronics) and Chris Icasiano (drums). Their new body of music, composed over the past year, reflects a new generative direction for the project.
Crystal Pupa is a butterfly-winged pianist-singer-songwriter. She makes electronic pop music in her backyard shed studio, inspired by synthesizers and the alchemy of turning inner and outer struggles and experiences into something strangely beautiful. With her training in classical music and favorite genres of jazz, prog rock and R&B she has created a peculiar, playful and mysterious world all her own.
COVID-19 PROTOCOLS: Following current mandates from King County & WA State public health officials, all audience members at this performance will be required to wear masks regardless of vaccination status. Proof of vaccination status and/or recent negative COVID test result will be required for entry. Windows will be open, weather permitting. Given the constantly changing nature of the pandemic, all events are subject to cancellation on short notice. Check back here on the day of the show for updated info.