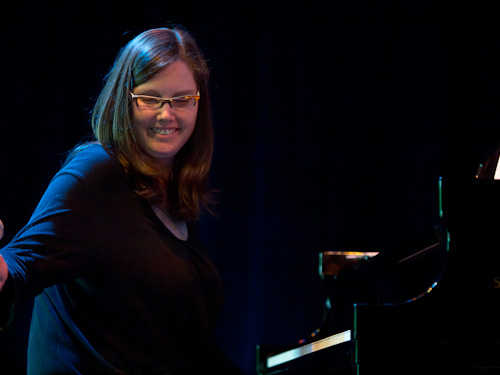 The 32nd annual Seattle Improvised Music Festival begins, presented by Nonsequitur, with support of a Neighborhood & Community Arts grant from City of Seattle Office of Arts & Culture.
Nearly all of this year's artists are playing the festival for the first time. As in last year's festival, three esteemed visiting artists and an array of Northwest musicians will meet in multiple duo, trio, and quartet configurations during the weekend, curated by organizers Greg Campbell, Kate Olson, and Steve Peters. However, instead of the usual three long sets per night, we've made them shorter (20 minutes) and added another longer (30 minutes) set featuring one of the visiting artists playing solo and/or with other musicians of their own choosing.
Another new feature will be a workshop for improvising dancers and musicians led by dancer Sheri Cohen and musician David Knott. This will occur on Saturday from 1-4 PM.
Check back here for yet more new developments, details forthcoming.
Tonight's set list (start/end times approximate):
8:10-8:30 – James Falzone (clarinet) & Bonnie Whiting (percussion)
8:35-8:55 – Heather Bentley (viola/violin), Robin Holcomb (piano), Nicole Mitchell (flute; Chicago via SoCal)
9:00-9:20 – Heather Bentley (viola/violin), Brian Chin (trumpet), Michaud Savage (classical guitar), Bonnie Whiting (percussion)
9:30-10:00 – Lisa Cay Miller (piano; Vancouver BC) solo + duo with James Falzone (clarinet)
Featured Visiting Artist: Lisa Cay Miller (photo by Peter Gannushkin)
Vancouver, BC pianist Lisa Cay Miller has performed with international artists Audrey Chen, Nicole Mitchell, Butch Morris, John Zorn, Ig Henneman, Wilbert de Joode, Anne La Berge, Michael Moore, Jean Yves Evrard,Jaochim Badenhorst, Eyvind Kang and Jessika Kenney, and in Vancouver with Dylan van der Schyff, Peggy Lee, Jesse Zubot, François Houle, Ron Samworth, the NOW Orchestra, Orquestra Futura and ion zoo. Her compositions have been premiered by de Bijloke ensemble (Ghent) the Tetzepi Bigtet (Amsterdam), mmm… (Tokyo), the Quatuor Bozzini (Montreal), Vancouver New Music, Standing Wave, Turning Point Ensemble, The Vancouver Chinese Instrumental Music Society, and the Berkeley Symphony Orchestra, The Left Coast Ensemble, and Earplay (San Francisco). She has also directed workshops (for the Now Orchestra and the Vancouver International Jazz Festival) and produced concerts and multimedia installations (Vancouver New Music, Coastal Jazz and Blues Society, Circus Maximus, Western Front Society).