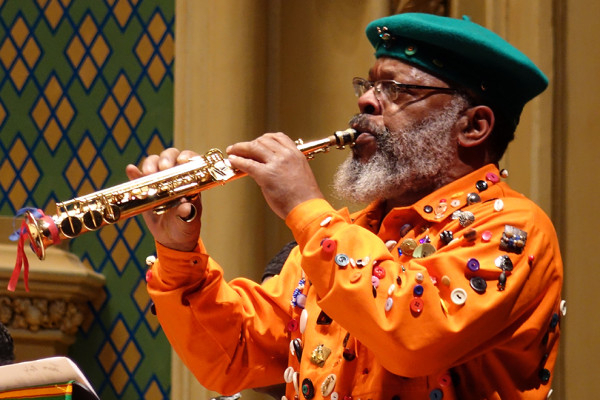 The 32nd annual Seattle Improvised Music Festival concludes. Presented by Nonsequitur, with support of a Neighborhood & Community Arts grant from City of Seattle Office of Arts & Culture.
As in last year's festival, three esteemed visiting artists and an array of Northwest musicians will meet in multiple duo, trio, and quartet configurations during the weekend, curated by organizers Greg Campbell, Kate Olson, and Steve Peters. Nearly all of this year's artists are playing the festival for the first time.
Today's events (start/end times approximate):
1:00-4:00 PM – Improvising Together: A Listening and Playing Workshop for Dancers and Musicians led by dancer Sheri Cohen and musician David Knott. We'll use listening practices and interactive scores to illuminate the material shared between musicians and dancers and make our improvisations clearer and richer. ENROLLMENT IS FREE but limited to 12 musicians and 12 dancers. Please register by January 28. (Sorry, this workshop is for participants only and is not open to a general audience.)
Sheri Cohen has created dance with musicians for over 25 years, including improvisations with Stuart Dempster, Dave Knott, Eyvind Kang, Susie Kozawa, Andrew Drury, Pauline Oliveros, and many more. Her improvisation practice is influenced by Tuning, Contemplative Dance Practice, Skinner Releasing, and more. Dave Knott has collaborated with improvising musicians and dancers through projects such as the Seattle Festival of Dance Improvisation, ROOM, 12 Hour Play and Here/Now and numerous artists including Sheri Cohen, Stuart Dempster, Joan Laage and Jeph Jerman. For the past 15 years, he has worked as a music therapist with a special emphasis on using improvisation to engage and facilitate therapeutic change with critically ill children.
5:00-7:00 – Potluck / Future Visioning Session: Improvising musicians and listeners are invited to bring food, drinks, and brilliant ideas to share about how SIMF might evolve going forward.
7:00 – Improvised Music Merch Mart – local artists and labels tabling improvisational music releases in a variety of formats.
8:10-8:30 – Mike Gamble (electric guitar; Portland) & Evan Woodle (drums)
8:35-8:55 – Steve Barsotti (home-mades/field recordings), James Falzone (clarinet), Arrington de Dionyso (woodwinds)
9:00-9:20 – Heather Bentley (viola/violin), Catherine Lee (oboe; Portland), Lisa Cay Miller (piano; Vancouver BC), Bonnie Whiting (percussion)
9:30-10:00 – Douglas Ewart (woodwinds; Minneapolis) w/ Steve Barsotti (home-mades/field recordings), Heather Bentley (viola/violin), Lori Goldston (cello)
Featured Visiting Artist: Douglas R. Ewart (photo by Frank Rubolino)
Douglas R. Ewart is a composer, improviser, sculptor and maker of masks and instruments, as well as an educator, lecturer, arts organization consultant and all around visionary. In projects done in diverse media throughout an award-winning and widely-acclaimed career, Mr. Ewart has woven his remarkably broad gifts into a single sensibility that encourages and celebrates – as an antidote to the divisions and compartmentalization afflicting modern life – the wholeness of individuals in culturally active communities.
Born in Kingston, Jamaica in 1946, Ewart immigrated to Chicago in 1963. His travels throughout the world and interactions with diverse people since then has confirmed his view that the world is an interdependent entity. In America, his determination to spread his perspective is part of the inspiration behind his often multi-disciplinary works and their encouragement of artist-audience interactions. It is also the basis of the teaching philosophy with which he guides his classes at the School of the Art Institute of Chicago, where he has taught since 1990. Mr. Ewart uses his past experience as chairman of the internationally renowned Association for the Advancement of Creative Musicians (AACM) to celebrate and build upon the history and achievements of the organization, and is from this perspective a natural extension of the activities he has been engaged in for the past four decades.
Ewart maintains several ensembles: the Nyahbingi Drum Choir, the Clarinet Choir, Douglas R. Ewart & Inventions, Douglas R. Ewart & Quasar and Douglas R. Ewart & Stringnets. Each performance or production by Ewart reflects time-tested structures, but also incorporates his most immediate experiences of America and the world, and taps his many creative engagements with collaborators such as Muhal Richard Abrams, Amina Myers, Beah Richards, the Art Ensemble of Chicago, Anthony Braxton, Alvin Curran, Anthony Davis, Von Freeman, Fred Anderson, Joseph Jarman, Yusef Lateef, Roscoe Mitchell, Ajule Sonny Rutlin, Rita Warford, Dee Alexander, Robert Dick, George E. Lewis, James Newton, Cecil Taylor, Richard Teitelbaum and Henry Threadgill.