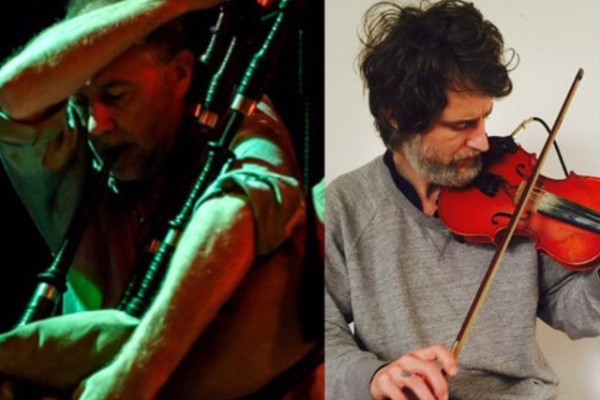 David Watson is an experimental guitarist, bagpiper, improviser and composer. Originally from New Zealand, he has lived and worked in New York City since 1987. As a guitarist he has been featured in John Zorn's Cobra, and in groups with Ikue Mori, Christian Marclay, Zeena Parkins, Fred Lonberg-Holm, and Tipple. In the early 90's he added Highland bagpipes. He has worked to create a new vocabulary for the instrument, pushing the limits of space, sound and timbre. Phill Niblock has created the piece Bag, using Watson's pipe sounds as source material, and performed it many times internationally. Watson founded and organizes the music performance series WOrK, which is predicated on exploring what "experimental" means today and has presented over fifty concerts since 2015.
John Krausbauer is a composer/multi-instrumentalist/improviser currently living in Oakland. A long time purveyor of the ur-drone and trance-psychedelia, his work involves audio transmissions for TOTAL/immersive sensory experience. Transcendence through repetition, duration, alternate tunings, maximum volumes, and (often) stroboscopic lighting. His current music projects include the Ecstatic Music Band (a 10+ member-collective of strings players); solo music for voice, violin, and synth; his collaboration with partner, Kaori Suzuki, with bells, voices, strings, tape; the Minimalist psych-punk group Night Collectors; his systems-based phase compositions; and ongoing collaborations with the Kentuckian steel bodied resonator guitar player, R. Keenan Lawler, NYC bagpipe player, David Watson, and Tokyo based guitarist, Tetuzi Akiyama.
Seattle guitarist Bill Horist is an improviser/composer/performer in a wide array of genres including rock, jazz, contemporary chamber, avant-garde, folk, new music and several subgenres within each. He has appeared on over 100 recordings and has performed hundreds of concerts throughout North and Central America, Europe, and Japan. Over the past two decades, Bill has collaborated with a long list of notable musicians from around the world. He has toured and recorded with a number of bands including Master Musicians of Bukkake, Six Organs of Admittance, Kinski, Jessica Lurie, Nobodaddy, Phineas Gage, Axolotl, UnFolkUs, Zahir, Tablet, Nervewheel, Ghidra, Rollerball and the Paul Rucker Ensemble in addition to extensive solo activity.
Amelia Coulter plays the alto trombone. She works mainly with alternative techniques, including modified/prepared trombones and vocal-, text-, location-, and object-oriented performance, with a focus on the Gregorian chant tradition. She has: a bachelor of music from Cornish College of the Arts, and a cat named Hippo.