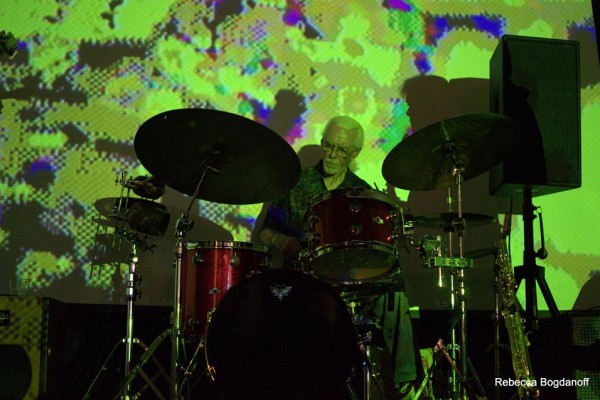 Une nuit de trios, the night of the trios, brings together some of the finest improvising musicians from the Seattle creative music scene and beyond for a night of unbridled collaboration and discovery.
Bringing together two of the leading lights in the Seattle creative music scene with a recent transplant to the Pacific NW from Southern California, the Campbell/Cook/Icasiano Percussion Discussion promises to be a rich and varied dialogue drawing on the immense strengths and deep sensibilities of these highly accomplished practitioners of the percussive arts: Greg Campbell, Alan Cook, Chris Icasiano.
Big Sky is a new trio that brings together three supremely gifted musicians, two springing from the state of Montana, whose wide open vistas gives the group its name, and one born in Scotland, but whose growth as a musician was grounded mainly in the rich creative music community of Los Angeles and its surrounding areas. The love of the wild and untamed runs through each of their work, and together the heavens will blaze. Scot Ray, slide guitar/effects; Tari Nelson-Zagar, violin; Alan Cook, drums/percussion.
Greg Campbell plays drums, percussion, and French horn in styles ranging from mainstream jazz to freely improvised music to classical to Afro-pop. He has worked with Bill Smith, Stuart Dempster, Matana Roberts, the Tom Baker Quartet, Wayne Horvitz, Stuart Dempster, Stewart Copeland, the Young Composers Collective, the Seattle Repertory Jazz Orchestra, Seattle EXperimental Opera, and the Seattle Percussion Collective, and co-leads the traditional Ghanaian drumming group Anokye Agofomma. He has studied with Dave Holland, Cecil McBee, Joseph Jarman, Bob Moses, Tom Collier, and Michael Crusoe.
Alan Cook brings a dynamic and multifaceted perspective to the creative exploration of the percussive arts, with over 50 years of diverse musical experience which includes performing with Nigerian master drummer Francis Awe's Talking Drum Ensemble, competing to top international honors with the Misty Isle Pipe Band, ensembles large and small covering music in a wide range of genres, as well as extended experience in solo accompaniment for modern dance and performance art. He has studied and performed with renowned musicians such as Dave Holland, Albert Mangelsdorf, Bobby Bradford, Fred Katz, Lee Konitz, Don Thompson, Ralph Alessi, Vinny Golia, Karl Denson, Kei Akagi, among many others.
Chris Icasiano has quickly established himself as a force in Seattle's new music and avant-garde jazz scene. He performs regularly in the co-led duo Bad Luck with long-time friend and collaborator, saxophonist Neil Welch, which was recently awarded the 2009 Alternative Jazz Group of the Year by Earshot Jazz. Bad Luck's self-titled debut album was received with much critical acclaim and has been described as, "…one of the finest Seattle Jazz recordings in years – fresh, assured, mature way beyond it's players' ages." (Peter Monaghan, Earshot Jazz). Chris is a co-founder of the local record label Table & Chairs, an organization which has, for two consecutive years, won the Earshot Jazz award for Concert of the Year in 2012 and 1013. Chris is also a co-founder of the New York Times acclaimed music series The Racer Sessions, a weekly composition and improvisation workshop that provides an alternative space for musicians of all backgrounds to come together and participate in collective improvisation. He is a very active contributor the Seattle music scene and has toured extensively throughout the United States and Europe.
Tari Nelson-Zagar is a third generation violinist and improvisor whose focus is collaborating with composers, choreographers, and other creative artists. Nelson-Zagar's involvement with contemporary music began in her late teens when she joined the Berkeley Symphony Orchestra – a freewheeling orchestra led by Kent Nagano and dedicated to performing contemporary music. Tari worked as a professional violinist in orchestras until she left the violin for the contrabass, playing with adventurous jazz and improvised music artists. Tari has lately returned to her home instrument, the violin. Tari maintains an active teaching studio, and engages students to develop excellent technical and musical abilities.
Scot Ray's eclectic slide guitar work is informed by his many years as a professional trombonist – from work with Brian Setzer of the Stray Cats (which involved collaborations with Gwen Stefani, Tony Bennett, and Bob Dylan; along with the Grammy awarded recording Vavoom), to pop icons Jason Mraz, Dionne Warwick, Elliot Easton (of The Cars) & Ray Manzarek (of The Doors); from Cuban percussionist Francisco Aguabella to new music pioneers Steuart Liebig, Bill Barrett, Alex Cline, Vinny Golia, & Nels Cline; from Caribbean cruise ships and Buddhist funeral bands to past performances on David Byrne's Sessions At W. 54th Street, David Letterman, Jay Leno, Conan O'Brien, The DuMaurier Jazz Festival, and Harmonica Sur Cher France; from soundtracks 'Stuart Little', 'Me, Myself, and Irene', and 'Three To Tango', to a vote as 'rising star' from Down Beat Magazine.