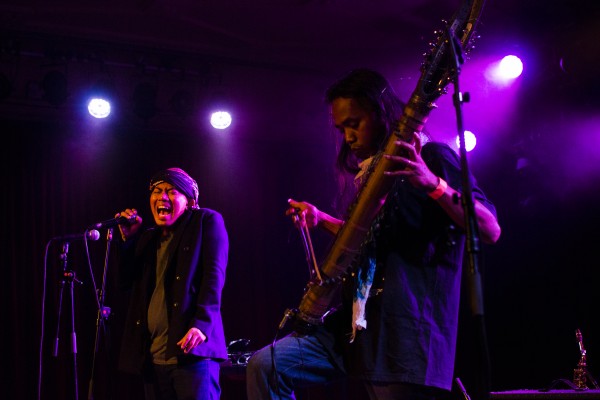 Senyawa (Jogjakarta, Indonesia) embodies the aural elements of traditional Indonesian music whilst exploring the framework of experimental music practice, pushing the boundaries of both traditions. Their music strikes a perfect balance between their avant-garde influences and cultural heritage to create truly contemporary Indonesian new music.
Their sound is comprised of Rully Shabara's deft extended vocal techniques punctuating the frenetic sounds of instrument builder, Wukir Suryadi's modern-primitive instrumentation. Inventions like his handcrafted 'Bamboo Spear'; a thick stem of bamboo strung up with percussive strips of the animal skin along side steel strings. Amplified it fuses elements of traditional Indonesian instrumentation with garage guitar distortion. Sonically dynamic, the instrument can be rhythmically percussive on one side whilst being melodically bowed and plucked on the other.
They have collaborated and performed with many notable musicians such Yoshida Tatsuya, Otomo Yoshide, Lucas Abela, KK Null, Keiji Haino, Rabih Beiani, Melt Banana, Jon Sass, Damo Suzuki, Jerome Cooper, Oren Ambarchi, David Shea and Kazu Ushihashi. In 2012 they completed a film in collaboration with French filmmaker Vincent Moon. Their next album is due to be released mid 2016 via Morphine Records.
Arrington de Dionyso (Olympia, WA) conjures Utopic Spaces with multiphonic vocal work & minimalist instrumentation. It's shamanic seance meets rock and roll ecstasy; "TRANCE PUNK" combining traditional ritual trance, electrified experimental approaches, dancehall rhythms, gamelan scales and mystically inspired Indonesian incantations.