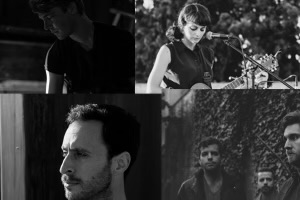 Benoît Pioulard, Hotel Neon, Viul and Natasha El-Sergany present a night of atmospheric music featuring guitar, voice, and electronic instrumentation.
Benoît Pioulard is the primary audiovisual project of Brooklyn-based (ex-Seattle) Thomas Meluch. With six LPs on the renowned kranky imprint, as well as a catalog of works for Universal (UK), Morr Music (DE) and others, he has constructed a unique aesthetic steeped in the textures of analog decay and pop song structure using chiefly guitar, piano and tape processing. He has also built an extensive archive of Polaroid photographs (many of which grace his album covers), the first official collection of which is the hardcover book "Sylva", released in 2019. For live performances Meluch constructs towering loops, seamlessly weaving in gentle guitar-and-voice songs for hypnotic, unbroken sets typically backdropped by film work from like-minded visual artists.
Hotel Neon is the Philadelphia-based trio of Michael Tasselmyer, Andrew Tasselmyer, and Steven Kemner. Together they create music to get lost in: cavernous, reverberating guitars and synthesizers, matched with visual projections in an immersive audio/visual experience. Since forming in early 2013, the group has released nine full-length studio albums and several EPs. Hotel Neon has toured and collaborated with the likes of Benoit Pîoulard, The Sight Below, Simon Scott, and Marcus Fischer, filling everything from living rooms to cathedrals with their densely layered walls of sound.
Viul is a Brooklyn-based composer and ambient musician. His latest release is Konec (A Strangely Isolated Place, 2022), a collaboration with Benoît Pioulard written and recorded in the earliest days of the pandemic and imbued with the concurrent dread, stillness and strange beauty of an abruptly-halted world. Viul's previous releases include Bright Decline (Disques d'Honoré, 2019) and Outside the Dream World (Past Inside the Present, 2019).
Natasha El-Sergany, singer-songwriter for the kosmiche-driven band somesurprises, returns to her bedroom roots for a solo ambient guitar and voice project finding beauty in repetition, droning swells, and melodies evocative of the calm waters of quiet conversation that belie the ocean of feeling underneath.