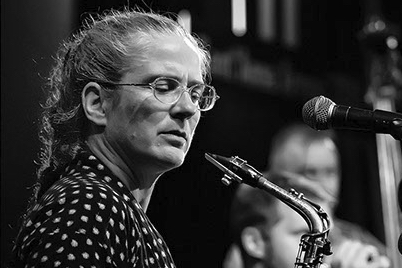 An invitation to explore large ensemble listening and playing. All instruments welcome, no experience required, just an open mind, heart, and ear.
As people who have experienced forms of oppression in music making and/or life, what is our aim when we make music among ourselves? Do we just recapitulate existing power structures, but try to place ourselves at the top? How deeply ingrained in us are these musical approaches?
Should we consciously aim to avoid those oppressor-created structures and hierarchies (how?) and make new ones?
Can we choose to let go of power (loudness, "skill", profuseness, traditional roles of instruments) without feeling constrained?
Can we be true to who we are, and to the instruments we play, without drowning out other musicians and their instruments?
Improvising: a way of accessing music in ourselves that is not part of an external system? But this doesn't happen by itself, requires searching…
How can we play together as a large group and ALL be heard…? How can we respect each other, and be respected?
What is it like to play from silence? From sound?
Getting away from neo-liberal constraints on the concepts around music and musicians: Should we draw on art that is related to what is called the "domestic" sphere (references – pottery, needlework, work-songs, "folk" or traditional musics)? Escape from the idea of what is required of the "professional" musician? How? Is the notion of "ritual" relevant, or is it oppressive?
How do we unite in playing, and how do we play together and maintain our separate identities? The tension between leaving space and filling space…
SPACE, COURAGE, LISTENING and CONCISENESS are essential to large-group improvisation…
How do we make the most of our difference… in how we pay attention, in our ways of listening and uttering? How far can we go into difference?
What is it like to do the "wrong" thing?
Originally from Seattle, Caroline Kraabel is a London-based improviser, saxophonist, artist and composer. She conducts and plays with the London Improvisers Orchestra (LIO). Sometimes she improvises solo while walking in London and elsewhere (broadcast over several years on Resonance
104.4 FM as Taking a Life for a Walk and Going Outside). She releases ephemeral solo pieces as part of Lonely Impulse Collective and works with many other excellent improvisers, including Robert Wyatt, Maggie Nicols, John Edwards, Louis Moholo, Cleveland Watkiss, Hyelim Kim, Pat Thomas, Susan Alcorn, Sarah Washington, and Charlotte Hug.