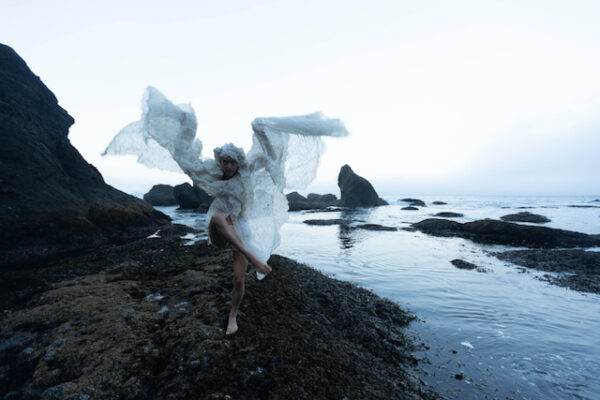 Joey Largent presents his most recent composition in collaboration with movement/costume/installation artist Katrina Wolfe for an acoustic just intonation ensemble composed of practitioners of Burmese vipassana, musicians, and friends. Composed primarily on the Olympic Coast and in the North Cascades near the Lower Curtis Glacier, the work follows an exploration of changing natural landscapes and physical masses as the ensemble organically weaves through a semi-improvised score paired with the gradual tidal changes of an extended field recording from the Washington Coast. Sensitive to the sound and structure, Wolfe offers a complementary reflection of the terrain through continuous, hypnotic movement that is enhanced by her meticulously hand-stitched costumes and intricate choreography. Pulling from ongoing years of study in North Indian Classical gayaki (vocal music), Largent's composition unifies these elements by suspending a passage through variations of four different ragas of morning, afternoon, and night for a slow moving work of an unfixed duration.
Annapurna Dharma Communion:
Jackie An – violin
Michael Shannon – cello, voice
Joey Largent – cello, voice, field recording, composition
Manasvi Patel – 7-limit shruti box, bamboo chimes, copper chimes, bells 
Sam Vanderlinda – 7-limit shruti box, steel tongue drum, bells, tibetan bowls 
Katrina Wolfe – movement, costumes, choreography
Russell Christenson – 7-limit harmonium, bells
Ian Gwin – Miraj tambura
Joey Largent's work focuses on exploring long-duration compositions and improvisations for acoustic ensembles and solo performance. Beyond generating music alone, his goal is to offer a space for introspection, releasing from attachment, beauty, and connection. Through site-specific work and field recording, he seeks to connect daily experience more profoundly with the impermanent harmony of the natural world. He has collaborated with numerous dancers, musicians, and interdisciplinary artists over the years, and has studied North Indian Classical singing with several disciples of Pandit Pran Nath including Michael Harrison and Rose Okada.
Katrina Wolfe is an interdisciplinary artist working in the mediums of performance art, costume making, installation, photography, and sculpture. A primary focus of Katrina's work is the practice, teaching and performance of Masukhuma: a dance, movement therapy and performance art technique that has evolved from her experience in butoh, visual arts, and her daily practice of Vipassana meditation. Katrina studied primarily with butoh artists Joan Laage and Atsushi Takenouchi. She also gained great inspiration through studying the films of butoh founder Tatsumi Hijikata and through an intensive workshop with first-generation butoh artist Daisuke Yoshimoto. By creating costumes and installations from organic and recycled materials, and through merging the body with various environments – both natural and created – Katrina's work explores issues of attachment, over-consumption, climate change, waste, and ephemerality.
(Photo: Dmitry Artamonov)