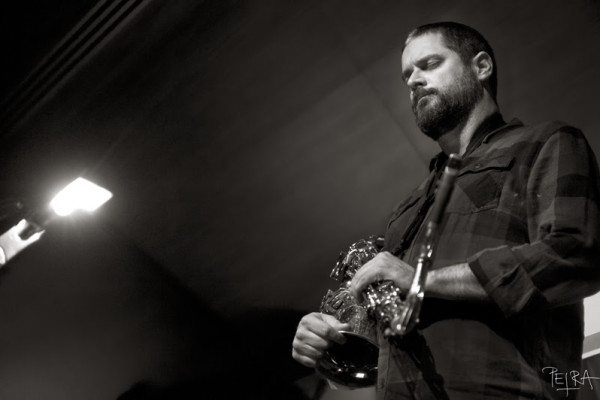 Prolific Chicago-based saxophonist, improviser, and composer Dave Rempis undertakes a sprawling solo journey around the US this spring (working title: Lattice), developing repertoire for his first solo release scheduled on Aerophonic Records this fall, while also working to strengthen the informal networks that connect, inform, and sustain the improvised music scene throughout the country. Each concert includes a solo set, and a collaboration with one or more locally-based musicians in every city he visits. Tonight's second set will feature mixed groupings with James Falzone (clarinet), Arrington de Dionyso (reeds), Kate Olson (reeds), Lori Goldston (cello), and John Niekrasz (drums).
Rempis has been an integral part of the thriving Chicago jazz and improvised music scene since 1997, when he joined the well-known Chicago jazz outfit The Vandermark Five at age 22. At the same time, Rempis began to develop the many Chicago-based groups for which he's currently known, including the Rempis Percussion Quartet, The Engines, Ballister, Rempis/Abrams/Ra, Wheelhouse, Triage, The Rempis/Rosaly Duo, and The Rempis/Daisy Duo. Other collaborations have included work with Paul Lytton, Axel Dörner, Fred Anderson, Peter Brötzmann, C. Spencer Yeh, Hamid Drake, Steve Swell, John Tchicai, Roscoe Mitchell, Kevin Drumm, Paal Nilssen-Love, Nels Cline, and Joe McPhee.
His musical expression draws on a number of touchstones. While heavily improvisational in nature, his Greek ethnicity, studies in jazz and ethnomusicology, an appreciation for the philosophical underpinnings of contempory composition, and a love for unforgivingly strident yelps, screeches, and squeals that can encompass the ever-evolving state of human depravity all inform his work.
Aside from his work as a musician and composer, Rempis has worked tirelessly as a presenter. Since 2002, he's organized and produced a weekly series of improvised music at Chicago's Elastic Arts Foundation. He was a founding member of Umbrella Music, and one of the lead producers and curators of its annual festival from 2006-2014, and served as the business manager of the Pitchfork Music Festival from 2005-2016.