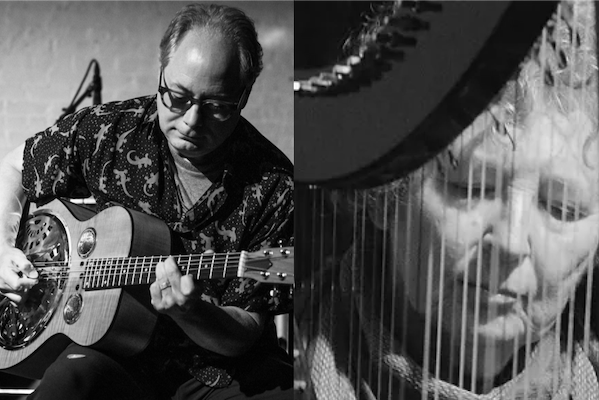 Guitarist Dennis Rea presents a rare solo set of original pieces, interpretations of Asian and other world music, improvisation, and select covers.
Active since the mid-1970s, Rea has led or been a key contributor to musical innovators Moraine, Iron Kim Style, LAND, Savant, Flame Tree, and Earthstar, and has worked with such trailblazing musicians as Hector Zazou, Stuart Dempster, Cui Jian, Albert Kuvezin, Klaus Schulze, Steve Fisk, Han Bennink, Hawkwind members Nik Turner and Michael Moorcock, and members of King Crimson, R.E.M., Pearl Jam, Soundgarden, Santana, Ministry, Yat Kha, and the Sun Ra Arkestra. He has performed widely in the U.S., Asia, and Europe and has appeared on roughly 50 recordings to date. Rea's work has increasingly focused on bridging musical traditions from around the planet in personalized ways.
Carol J Levin opens with a singular solo set that will include free harp and percussion elements and improvised explorations of musical favorites, with special guest(s).
Carol has established a unique niche as Seattle's improvising harpist. Returning to the harp after classical training in her youth, she has been embraced by jazz and free improvisation communities for her creative voice and for extending the capabilities of the harp beyond its expected style. Carol's music is full of surprises with styles varying from beautiful melodic lines to challenging and experimental tangents with electronic effects and loops, often incorporating percussion and stringed instruments from other cultures.