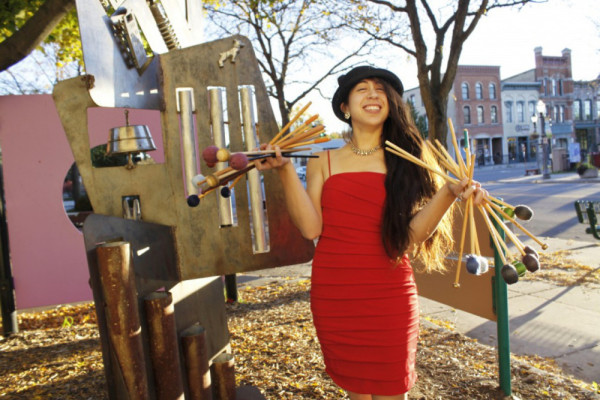 Cacophonie will perform original compositions. Following the concert, they will answer questions and speak about their composition process. Listen on BandCamp and watch on YouTube.
Dr. Kelsey 'Cacophonie' Tamayo is an ex-classical musician who likes to hit things, strum things, and, in general, make noise. Earning multiple music degrees from Peabody Institute and a Doctor of Musical Arts from Michigan State University, Cacophonie uses their extensive knowledge of percussion to create a wonderful mix of classical and folk/singer-songwriter styles.
They recently moved from to Seattle from mid-Missouri, where they were the percussion professor at Drury University and percussionist/keyboardist for the Springfield-Drury Civic Orchestra, Springfield Regional Opera, and Taneycomo Festival Orchestra.
Currently, Cacophonie is the drummer for the Power Converters Band in Hello Earth's "Wars Outdoors: A New Hope in the Park" and a percussionist for the Seattle Video Game Orchestra and Choir. Cacophonie is a part of the Social Justice Bards, a community of musicians, story tellers, and creatives that regularly stream and collaborate on Twitch and IRL. Cacophonie is a proud artist endorser of Planet Marimba and Artifact Percussion.
Presented by Seattle Composers Alliance, a non-profit professional organization made up of working composers, students, and others interested in professional music composition. The SCA was created so that composers could gather with their peers in a relaxed, non-competitive atmosphere and share knowledge, experience and information. But we also have an agenda: special forums and seminars of interest to our members; expanding Seattle's reputation as a center for musical creativity; and educational outreach to our community.