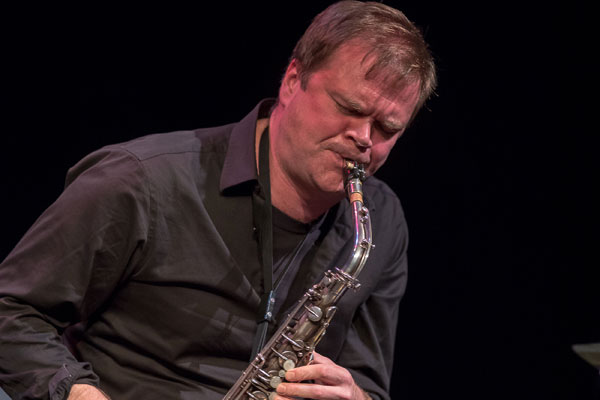 Throughout his career, saxophonist and composer Briggan Krauss has pushed the limits of acoustic performance and improvisation. An iconic performer, his approach to composition has developed into a morphology of sound, documented most recently on this year's release Art of the Saxophone: The Lethe Lounge Sessions (Iluso).
Krauss' connection to Seattle is strong. He studied at Cornish College of the Arts, worked with guitarist Brad Shepik, and played in pianist Wayne Horvitz' Pig Pen quartets. Moving to New York City in 1994, he immersed himself in the downtown scene, stretching sound as part of Steven Bernstein's Grammy-winning group Sexmob, among other projects. With a roving musical imagination that has brought him to the guitar, sound art, and media installation, Krauss has counterbalanced his critically acclaimed recordings as a leader and sideman—notably on Bill Frisell's 2004 release Unspeakable, with academic work and installation art. Currently, he is a professor in the Performance and Interactive Media Arts [PIMA] and Sonic Arts MFA programs at Brooklyn College.
Art of the Saxophone continues a series of landmark recordings that mark his major contribution to solo-saxophone performance. Recorded over two days at the Lethe Lounge, Krauss practically manifests his experimental extension of practice. Through various forms of muting—including his signature towel-mute—he uses a repertoire of long tones and multiphonics to rigorously sculpt his sound. The product is boundary-pushing.
Presented by Earshot Jazz Festival.