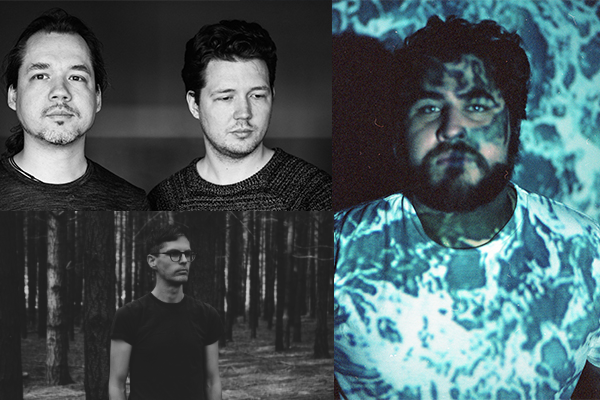 East German cello/piano duo CEEYS and California composer/multi-instrumentalist/producer Christopher Sky visit Seattle on their first West Coast tour together. They are joined by Portland composer Keith Kenniff (aka Goldmund), giving his first public performance in four years.
Christopher Sky is an American composer, multi-instrumentalist and producer based in Los Angeles. His first EP, Cotton Dream, featuring contributions from Paul Espinoza on guitar, was released in 2011 through his own label, Sejatski Ltd. This was followed by Audio Memory, with a stronger emphasis on guitar-based loops and sound design. After taking time off to focus on his Let's Drive to Alaska project – releasing In the Fifth House in 2016 – Sky returned in 2018 with By the Ocean, his first solo work in seven years, featuring five brand new songs, plus remixes by Mirror, Jubilant Ecstasy Dream and HEARTMIND. Two-track EP Orpheus and Eurydice, an ode to the classic tale of love and loss, was released on Valentine's Day 2018. Vastness was released on Aagoo Records and Hidden Shoal Recordings in November 2018, followed by a UK and European Tour December 2018 and California Tour January-October 2019.
CEEYS' beautiful abstract compositions have received excellent press and their releases can be found on the acclaimed labels 1631 Recordings, Oscarson and Neue Meister. "It's an extraordinary piece of music. It's a work of two brothers, Sebastian on cello and Daniel on piano, and together they play as CEEYS. I saw them premiere tracks from their new album at Neue Meister gig that I went to very recently in Berlin. This is a project, which is actually dedicated to their parents and it is written about the buildings that surrounded them in their childhood, growing up on the streets of East Berlin." – Mary Anne Hobbs BBC Radio 6 Music
A Pennsylvanian by birth, Keith Kenniff is an honors graduate of Boston's esteemed Berklee College of Music, best known as the brains behind dulcet ambient/electronic practitioner Helios and post-classical piano minimalist music as Goldmund (the latter's music once described by no less an authority than Ryuichi Sakamoto as "…so, so, so beautiful…". Together with his wife Hollie, Keith also records as Mint Julep, and the two released their debut album, Save Your Season, which NME coined as "Unquestionably beautiful". A succession of albums under those aliases has made Kenniff the darling of discerning critics and his music has been widely used in film, TV, and advertising, for clients such as Apple, Facebook, Google, Paramount, MTV and Warner Brothers.
"…his accomplishment and expertise on various instruments is gratifyingly apparent…" – PITCHFORK
"Exuding beauty but also suspense, this is the sort of minimalist music that fills a room with even the faintest of its sounds, not the sort that disappears into the walls without anyone noticing." – POP MATTERS
"…The overall effect is cinematic, like a film score composed by Erik Satie."- NPR