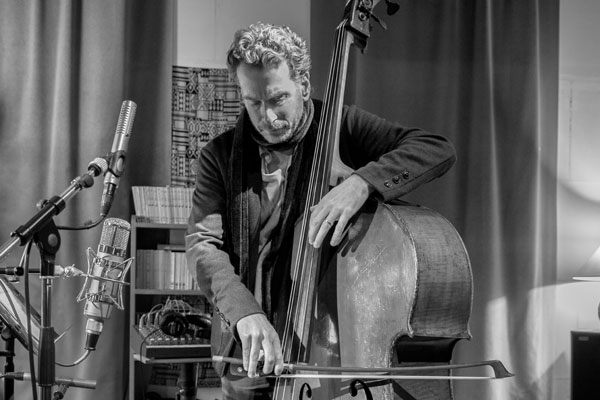 Though the bass can sometimes drop to the background, bassist Larry Grenadier has always stood out. He's been a key part of Brad Mehldau's trio since the early 90s and has recorded with Paul Motian and Charles Lloyd. His recent work includes the supergroup Hudson, with Jack DeJohnette, John Medeski, and John Scofield.
Grenadier's newest album, The Gleaners (ECM) is a solo-outing that takes its title from Agnés Varda's film, The Gleaners and I. Like the "gleaners" in the documentary – scavengers who gather the remains of crops after harvest – Grenadier finds his own way in what he calls a "search for a center of sound and timbre, for the threads of harmony and rhythm that formulate the crux of a musical identity."
Guitarist/vocalist Carlos Snaider and bassist Kelsey Mines open with their duo, EarthToneSkyTone. The group combines the storytelling of song with fresh harmonic and rhythmic concepts, in what Snaider calls "a meditation of collectivity and community." A graduate of Harvard University, where he studied with Vijay Iyer, Yosvany Terry, and others, Snaider's incumbent curiosity and serious creativity has flowered in projects with performance artist Josefina Báez and percussionist Rajna Swaminathan, among others. Mines, a ubiquitous and adroit musician, plays in symphonies and teaches at the university and high school level throughout the Northwest. A recipient of the Holland Scholarship where she studied with contrabassist Sorin Orcinschi and a graduate of the University of Washington, her recent work includes recordings with Neil Welch and tours with singer-songwriter ings.
Presented by Earshot Jazz Festival, welcomed by KNKX.