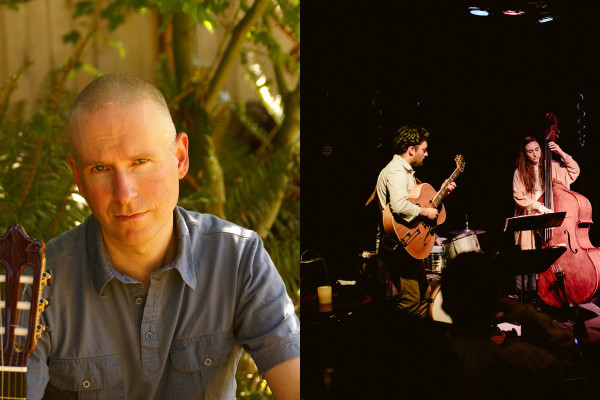 Jazz: The Second Century brings the progression of jazz into creative motion on the concert stage, presenting Seattle artists selected by a peer panel, performing original work in a concert setting. The series is a continuation of the very first programming initiative of the Earshot Jazz organization, and embodies one of our core values. It offers a current, subtle, perhaps refreshing, un-sentimental look at our city's engagement with this diffuse, vibrant art form.
Solo guitarist Matthew Anderson, aka Cathedral of Trees, draws upon the work of Brazilian jazz master Egberto Gismonti and other post-1960s New World composers. Armed with a 10-string classical guitar, Anderson explores the intersections between jazz, classical, and world music with spontaneity and dynamism. A native to the Northwest, Anderson is a graduate from the Classical Guitar Performance Program at Cornish College of the Arts and an educator with an emphasis on Baroque and Latin American styles.
Composer and bandleader Ronan Delisle (guitar) is interested in disrupting the tired, tried-and-true jazz formula of opening head, improvisation, and return to theme. His compositions employ traditional jazz elements in new ways, as he re-examines the roles of instruments, actively re-working how themes and languages are presented. The music calls on the individual talents of the young, up-and-coming band members, including Abbey Blackwell (bass), 2017 2nd Century participant Thomas Campbell (drums), the 2015 Golden Ear Emerging Artist of the Year, Raymond Larsen (trumpet), and Daniel Salka (piano). The group has nurtured a rapport that allows the music to flow freely, painting between reference points with wide swathes of rhythmic and melodic colors.