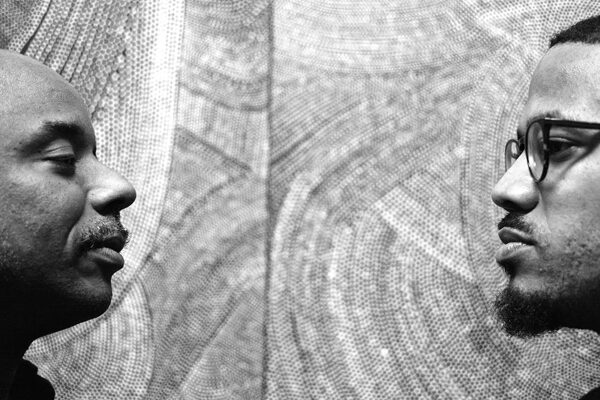 Powerful, tenor saxophonist James Brandon Lewis last appeared with Earshot in the 2018 festival. Known for his many talents that span musicianship, composing, and writing, he's noted as "a saxophonist who embodies and transcends tradition." (The New York Times). His style melds many traditions including gospel, free jazz, funk, and hip-hop. His soaring notoriety rests on the back of his many acclaimed albums which include: An Unruly Manifesto, Jesup Wagon, and Molecular as well as DownBeat's 2020 Rising Star Tenor Saxophonist accolade.
For his upcoming performance, Lewis will be joined by his long-time collaborator, drummer Chad Taylor. Hailing from Chicago but now based in Philadelphia, Taylor is known as a co-founder of the Chicago Underground Duo with trumpeter Rob Mazurek. Lauded for his creativity and sharp improvisational instincts, Taylor has played with Fred Anderson, Pharoah Sanders, Marc Ribot, Malachi Favors, Jaimie Branch, and Nicole Mitchell, among others.
Lewis and Taylor have appeared on many albums together, the latest being the 2021 album Code of Being. Pirmin Bossart writes about the duo in an earlier album, Live in Willisau — "the two musicians let us hear the great breath of an essential jazz tradition, its clarity, raw beauty and urgency shining through."
Presented by Earshot Jazz.
COVID-19 PROTOCOLS: Following current mandates from King County & WA State public health officials, all audience members at this performance will be required to wear masks regardless of vaccination status. Proof of vaccination status and/or recent negative COVID test result will be required for entry. Given the constantly changing nature of the pandemic, all events are subject to cancellation on short notice. Check back here on the day of the show for updated info.