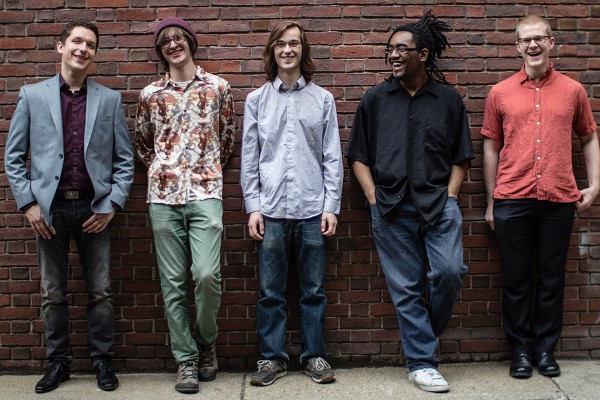 Earshot's Jazz: The 2nd Century program invites Seattle musicians to creatively consider the future of jazz, in any and all of its possibilities. Curated each year by a different "blind jury" from responses to a general call for submissions, the resulting concert series showcases original compositions by Seattle artists on four consecutive Thursday evenings in July.
The Arsonists
It all began in 2012, when four friends from Seattle – drummer Max Holmberg, bassist Mat Muntz, pianist Julian Garvue, and tenor saxophonist Xavier Del Castillo – collided with alto saxophonist Patrick Bartley, from Fort Lauderdale. A deep connection within the newly founded quintet was immediately apparent; the band set off on a musical crusade to reintroduce authentic spirit and ecstatic transcendence into their artistic community. This cause is aided by an eclectic mix of sounds and styles, from neo-Caribbean dancehall beats and pseudo-Eurasian melodic exotica to passionate post-jazz wailing and down-home funk-metal grooves. The unified sound emerging from these disparate influences is at once idiosyncratic, organic, and powerful.
OverPlay w/ Sister Nader
Tenor saxophonist Jeremy Shaskus and drummer Randy Doak have teamed up to explore the art of the duo. Drawing on influences from jazz icons including John Coltrane, Sun Ra, and Sonny Rollins to more contemporary artists such as Joe Lovano and even local saxophonist Neil Welch, OverPlay demonstrates versatility in each of their compositions. Whether it's the use of multi-phonics on a track dedicated (kind of) to Hemingway or classic medley arrangements the duo emphasizes imagination in their explorations of sound.
Shaskus and Doak invite avant artist Sister Nader, on clarinet, for their performance. While the sax-drum duo is the core sound of OverPlay, the addition of the guest, says Shaskus, is to add a bit of a theatrical element, seldom seen in today's jazz.