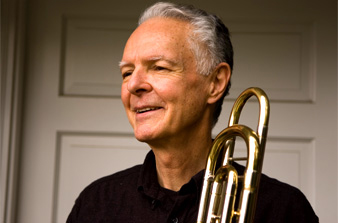 Note: If the weather is nice, the show will begin in the Garden area behind the Good Shepherd Center, transitioning to the Chapel around 8 PM; if not, everything will happen in the Chapel beginning at 7:30.
Swarm+Stew, composed/facilitated by Neal Kosaly-Meyer, is an event conceived to honor trombonist, composer and multi-media performer Stuart Dempster two days following his eightieth birthday. The ensemble is comprised of friends, students and colleagues or co-conspirators of Stuart Dempster: Ione, Loren Dempster, Neal Kosaly-Meyer, Pauline Oliveros and Greg Powers. As befits a tribute to Dempster, the score allows for spontaneity, surprise and the unexpected; it encourages deep listening in each moment; it prescribes loving dedication to its auditors and to its inspiration.
Ione is a critically acclaimed author, playwright, poet, educator, and performer-improviser. She is director of the Ministry of Maåt, and artistic director of Pauline Oliveros' Deep Listening Institute.
Loren Kiyoshi Dempster, uses a combination of computer, electronics, cello, improvisation, notated scores, to create and perform music. He toured extensively with Merce Cunningham performing Interscape and Biped. A Seattle native and University of Washington graduate, Dempster has worked with many Seattle based artists such as the Degenerate Art Ensemble.
Neal Kosaly-Meyer is a composer and performer based in Seattle. Current projects include his ongoing piano composition Gradus: for Fux, Tesla and Milo the Wrestler, and A Finnegans Wake Project (memorizing and performing each chapter of Joyce's novel over the course of 17 years).
Pauline Oliveros has influenced American music extensively in her career spanning more than 60 years as a composer, performer, author and philosopher. She pioneered the concept of Deep Listening, her practice based upon principles of improvisation, electronic music, ritual, teaching and meditation, designed to inspire both trained and untrained musicians to practice the art of listening and responding to environmental conditions in solo and ensemble situations.
Greg Powers is a pioneer in adapting Indian music to the trombone. He is a disciple of the Dagarbhani tradition and has studied with Jeff Lewis, Ustad Farid'uddin Dagar, Uday Bhawalkar, Baha'uddin Dagar and Wasif'uddin Dagar in Seattle and Mumbai. As a Fulbright Fellow to India he studied with Ustad Yunus Hussein Khan in New Delhi.