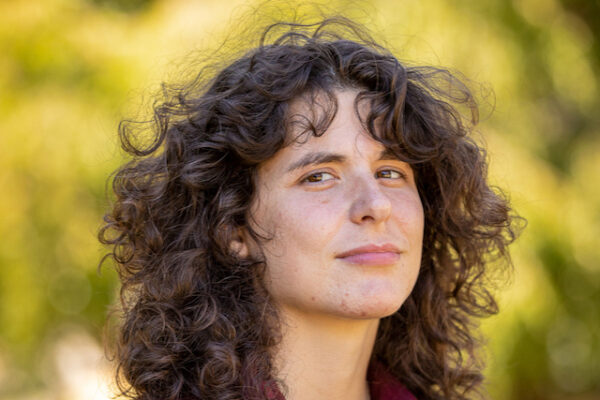 Sponsored by BECU. Welcomed by 91.3 KBCS.
The first of three 2023 Earshot Jazz Festival Commission artists, Sheridan Riley is poised to make a difference on the local jazz scene. Not one to be limited by boundaries, Riley at a young age was inspired by the likes of Karen Carpenter, Led Zeppelin, the Jackson Five, ABBA, the Beatles, Deerhoof, Miles Davis and Elvin Jones. After high school they played as often as they could, performing in contexts ranging from touring indie rock acts, country bar bands, and the Long Beach community college swing band. As Riley notes "I was curious to experience music through as many lenses as possible." More recently, Riley has performed in the bands ALVVAYS, a Juno Award-winning indie alternative band from Canada, L.A.–based band Dante Elephante and Seattle's Zen Mother, as well as a duo project with trumpeter Ahamefule Oluo called Insect Revenge, and a solo project called Peg. A frequent participant in local avant-music series Racer Sessions, Riley has also collaborated with many artists including Lori Goldston, Wayne Horvitz, Haley Freedlund, Neil Welch, Cassandra Jenkins, Hand Habits, and Abbey Blackwell among others. Their most recent release was Participant (2022).
For this festival commission Riley explains, "I am interested in exploring the sensation of memory and how it informs the way people move through their lives. For this commission, I would like to compose a durational piece with an emphasis on rhythmic cycles and and polyrhythm – sonic patterns which can serve as potent analogies for how people experience beginnings and endings. The final piece will take the form of a sonic collage, intended to prompt the listener to feel connected to their personal experience and invite questions of how their narrative might extend outward beyond the scope of the individual self." Riley's ensemble will include Mason Lynass (electronics), Ronan Delisle (guitar), James Falzone (clarinet), Marina Christopher (bass), and Wayne Horvitz (piano).
**Earshot Jazz COVID-19 Policy: Earshot recommends that all ticket holders be vaccinated. Policy subject to change. Full COVID policy here.
Sheridan Riley photo by Daniel Sheehan