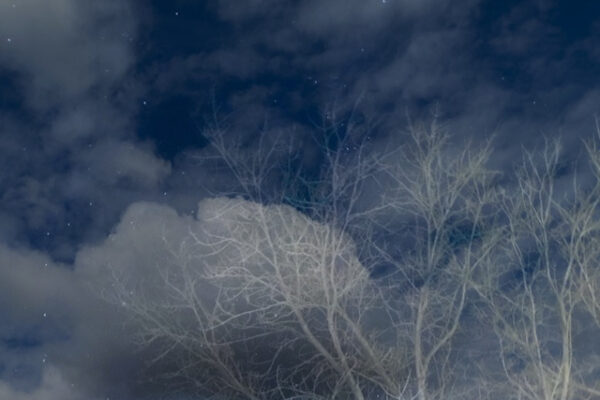 Joey Largent will share an excerpt from the most recent version of his ongoing semi-improvised work for reed organ and voice, It Was in Dreams That We Knew Each Other. The current version features the recent addition of a new just intonation tuning paired with an extended field recording from the Washington Coast. The work weaves through gently drifting long tones amidst variations of emotional texture explored with the voice in a hybrid of Ragas Bhairavi and Darbari Kanada. Joey has been developing and revising this piece slowly since its inception in 2018.
A Dictation of Karmic Energy arose from a recurring dream Evans had. In this dream, a friendly light surrounded him and he would begin to hear some tones. As he continued to have the dream he began writing notes down whenever the dream showed up. Our consciousness is a stream of all experiences we've had in our lives – the world experiencing us and us experiencing the world – a vastness, a net, beyond comprehension. In the end, recording the notes from the dream is a sort of crude grasping at, and a dictation, of karmic energy. A field recording from Evans' farm at dawn is the thread through all the music in the piece. Pianist Melanie Carter and percussionist Rebekah Ko will join Evans in this performance.
Joey Largent's work focuses on exploring long-duration compositions and improvisations for acoustic ensembles and solo performance. Beyond generating music alone, his goal is to offer a space for introspection, releasing from attachment, beauty, and connection. Through site-specific work and field recording, he seeks to connect daily experience more profoundly with the impermanent harmony of the natural world. He has collaborated with numerous dancers, musicians, and interdisciplinary artists over the years, and has studied North Indian Classical singing with several disciples of Pandit Pran Nath, primarily Michael Harrison and Rose Okada.
Nat Evans is a composer and artist based in Seattle. His interdisciplinary works range from site-specific events and installations to chamber music, scores for dance and film, conceptual works based in ecology and social practice, to meditations on everyday life. His work is regularly presented across the United States, as well as internationally. Evans has received numerous commissions including The Henry, Odeon Quartet, San Francisco MOMA, Seattle Art Museum, The City of Tomorrow, Portland Cello Project, ALL RISE, the Indianapolis Museum of Art, among others. Works and events by Evans have been featured on WNYC's New Sounds and BBC3, as well as in LA Weekly, WIRED, The New York Times, VICE, Tiny Mix Tapes, The Believer and numerous other publications. His work has appeared at galleries such as Interstitial, SOIL, The Frye Art Museum, Greg Kucera, as well as Mediate Art Soundwave Biennial, Aqua Art Miami, NEPO 5k, and other festivals. He studied music at Butler University with Michael Schelle, Craig Hetrick and Frank Felice.