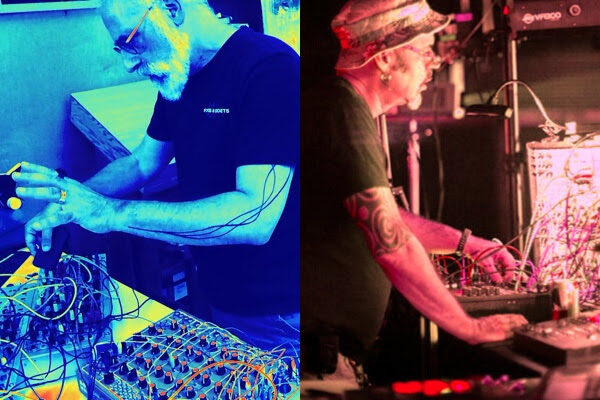 Modular Seattle presents (re)connect, SF Bay Area duo electric.kitchen's evening of experimental electronic music and visuals exploring reconnecting after two years of isolation for performing artists. The whole evening connects its parts into a journey, newly traveled every night.
The Seattle performance of (re)connect includes local musicians Demetrius Patin and WabiSabi. The evening journey includes time for each of them to perform their explorative solo electronic work, as well coming together to play both composed and improvised sections.
Mark Lentczner works with electronic sonic elements – analog synthesizers, sampled sounds, drum boxes, handmade electronics, effects boxes – using them in ways that skirts the line between recognizable musical forms, and journeys in sonic space. The music is all conceived for live performance, using many different ways to interact with electronics, building on the energy of live creation with an audience.
Bill Waitroski uses modular video synthesis and video feedback to create abstract visual interpretations of the hidden energy fields that surround us. The live performed visuals expose a secret, subtle, sometimes unruly world, lying just outside our normal field of perception.
Demetrius Patin creates music in layered patterns of polyrhythms, lush echos, and chewy distortion; this sound is meant to move you. If not physically, then emotionally. With hints of classical, jazz, and progressive rock the sound is unique, beautiful and driving.
WabiSabi (DB Pawlan) performs ambient soundscapes and textures featuring percussive and melodic elements. Much of his work incorporates Asian-influenced inspiration, manifesting itself in the dichotomy of the Japanese notions of wabi and sabi.
COVID-19 PROTOCOLS: Following current mandates from King County & WA State public health officials, all audience members at this performance will be required to wear masks regardless of vaccination status. Proof of vaccination status and/or recent negative COVID test result will be required for entry. Windows will be open, weather permitting. Given the constantly changing nature of the pandemic, all events are subject to cancellation on short notice. Check back here on the day of the show for updated info.